'Buhari is not old enough to be my father' – Fayose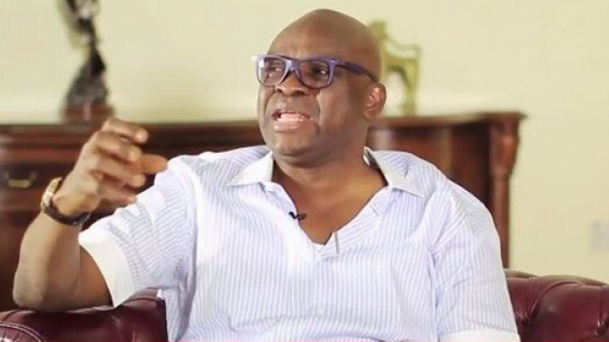 The Governor of Ekiti State, Ayodele Fayose has dispelled the assertion of people saying President Muhammadu Buhari was old enough to be his father.
Recall that a group of herdsmen in the north had asked Fayose to apologize to Buhari for making disparaging statement about his health on the social media or legal action would be instituted against him.
However, Fayose on Wednesday, during a meeting with political office holders at the Government's House in Ado Ekiti said, "Every word that has come out of my mouth, I have no apology for them. President Buhari was indeed in a coma and one of those who visited him said his recovery is a miracle. That shows that he was indeed very sick. Let Buhari go back to Daura and rest, don't send him to an early grave."
Read also: Buhari's return: Herdsmen threaten to sue Fayose
Fayose further said the president is not old enough to be his father after saying he has no apology to render to the president for telling him to resign over his ill health.
"Buhari is not old enough to be my father. My mother is older than Buhari, not to even talk about my father, he can only be my uncle. I am close to 60."
When asked if he would honour the invitation if invited to see the president, the governor said that could be misinterpreted, adding that he would prefer to watch from a distance.
"I cannot go and greet the president if invited and the reason is that such action would be misinterpreted to be something else. So, it is good for me to wish him well from a distance and be able to tell Nigerians the truth."
Read also: Buhari is tired and weak, I owe him no apology – Fayose
"I don't want to talk about 2019′, but I want to tell you that Nigeria needs a president that is agile and strong. The job is too much for an individual that does not have what it takes.
"We wish him well and we want him to recover but the President should throw in the towel, resign and go home.
"They said he would come back and resume in his office, he resumed in his office, they said rats have taken over his office. Now, they said he is working from home, tomorrow, they would say he is coming from the bedroom. All these stories are ending up in a make-belief."
Source: Naija News