Customs Officer Killed in Agbara by Army Convoy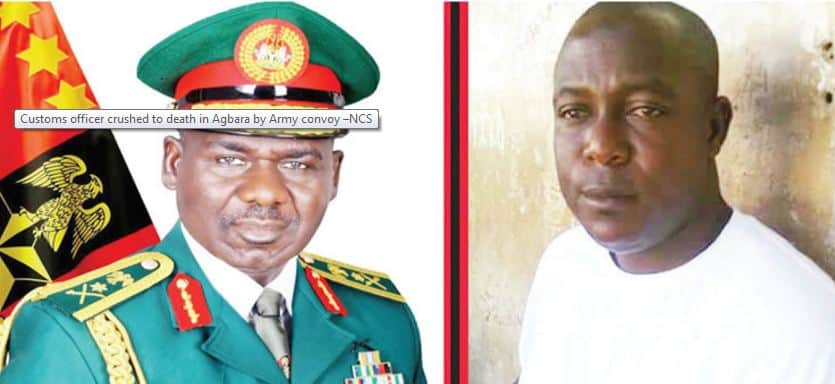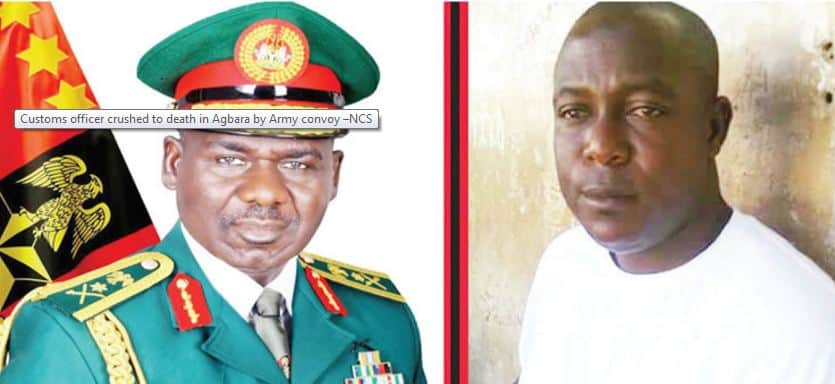 A Nigeria Customs Service officer, Baba Nwaguyawo, has been crushed to death while trying to stop a convoy of the Nigerian Army at the Agbara end of the Lagos-Badagry Expressway on Friday.
The convoy was reportedly used as a diversion to smuggle some cars into the country
Officials of the NCS at the Agbara checkpoint had attempted to stop the convoy for a routine check when a Nigerian Army van piloting the fleet killed Nwaguyawo, PUNCH reported.
Naija News learnt that the deceased, with service number 53225, was an anti-smuggling operative of the Federal Operations Unit, Zone A, Ikeja, Lagos.
The four vehicles, suspected of smuggling under the guise of Army convoy, were two units of Mercedez Benz Sports Utility Vehicle ML 350, one Toyota Venza, and a Mercedez Saloon car.
According to a source, "The incident happened on Friday. Actually, three joint units of customs, including the NCS, Seme, Customs Intelligence Unit and Federal Operations Unit, were set to intercept the vehicles which were being piloted by a team of military men, led by Captain A.M. Murnai with Force No. 45EB/15FER with Army operation vehicle no. NA2021B05.
"Each of the smuggled cars had two soldiers in uniforms inside, as an act of subterfuge and deception, with Captain Murnai inside the piloting van.
"At the point of stop-and-search, the military men resisted and forced their way through, knocking down the deceased in order to pave way for the smuggled vehicles to escape. Two of the smuggled vehicles crushed the customs officer simultaneously."
The victim's remains was reportedly deposited in the Lagos State University Teaching Hospital mortuary, Ikeja.
Meanwhile, some of the culprits, arrested together with their official vehicle, have been detained, and subsequently moved to the Ibereko Barracks, Badagry, on the instruction of the Commanding Officer, Ibereko Barracks, for further interrogation, PUNCH reported.
The Public Relations Officer of the NCS, Mr. Joseph Attah, confirming the incident said, "It is true that we lost an officer in that unfortunate incident. Investigations are ongoing by the Army and the NCS authorities."
Spokesman for the 81 Division of the Nigerian Army, Lt. Col. Olaolu Daudu, said the matter is under investigation.
"I am in Badagry now to investigate the matter," he said.
Source: Naija News