Toke Makinwa, lashes feminists as "angry and bitter women", disapproves men Whats App calling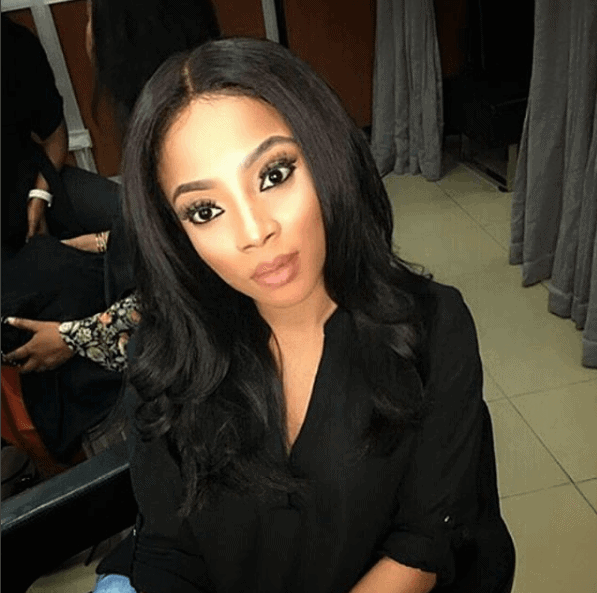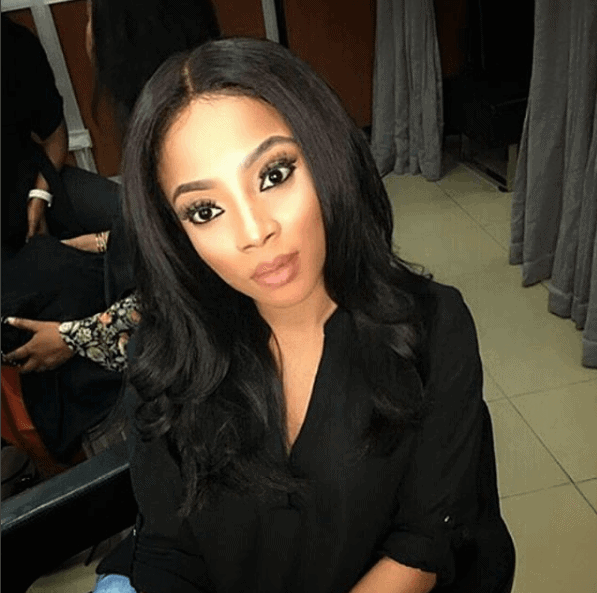 Does calling on Whats App not show that the man spends his money, in form of data, since his data runs out as he calls?
Well, individuals are entitled to their opinions on issues, and Toke Makinwa is definitely one of such controversial socialites with views that keep social media buzzing.
Presenter, vlogger  and author, Toke Makinwa disclosed on her on love, sex and relationships vlog, 'Toke Moments', her opinion on men making Whats App calls as opposed to regular calls.
This episode of her vlog has resulted in a backlash from Nigeria's Twitter community.
READ ALSO: Toyo Baby reveals she was a victim of sexual abuse in her new book
Expressly stating that it is her opinion, the on-air-personality said she preferred when a man called and texted her with regular call plans, rather than calling her on Whats App. She expressed that a man must be able to spend his money on calling her as it shows his putting in some effort to call her.
Feminism has gradually gained grounds among many women across the world, including Nigeria. The feminist views seek for equality between both sexes. Should this not mean equality in the amount of investments placed in a relationship, monetarily, emotionally and otherwise?
Well, Toke Makinwa has expressed that being a feminist does not mean women are at war with men, because women should try to please men as much as men do please women. She added that such apparently distorted views on pleasing a man is the reason she does not call herself a feminist.
READ ALSO: Chiwetalu Agu Condemns Northern Youths for demanding the Ejection of Igbos from their States
She consequently, referred to feminists as "a bunch of angry and bitter women walking through life, angry at everything and begin to blame it on the man". Indirectly expressing she's a feminist, she still emphasised that her man.
She however, vehemently expressed that she does not like to refer to herself as a feminist as she believes being a feminist does not prohibit you from doing thingss to please your man. Though she omitted whether or not she would frequently call her man or leave it as his duty.
The socialites's remarks have reulted in a mixed reactions from Nigerian social media users.
A number of twitter users have outrightly criticised her for her views.
This toke girl no just get sense at all, phone calls no be part of technology?! Wait! Are u normal?
— Pyper Escobar ? (@legzy_viper) August 10, 2017
Call on whatsapp, wahala
Call on phone, wahala
Don't call, wahala
Haba, what do you women really want??

— JAY !! ® (@Alpacino_jay) August 9, 2017
Whereas, her fans have supported her wholeheartedly.
I agree with toke makinwa , if u can't spend call time with me , best believe I won't save ur number. Please she's ? right . Call sometimes

— nomoremznice (@dauchessdgurl) August 9, 2017
Toke later on also, buttressed her point on twitter.
It's not the financial part. Technology makes us lazy, we don't call we on birthdays we post on walls RT … https://t.co/THcikWWCLA

— Toke Makinwa (@tokstarr) August 10, 2017

See full video.
Download NAIJA NEWS app: