During the weekend, a staff at Baby's All Right in Brooklyn tried to embarrass famous socialite Kendall Jenner by posting a photo of her receipt.
The picture showed a $24 bill, which 21-year-old Kendall, 21, appears to have paid with her credit card.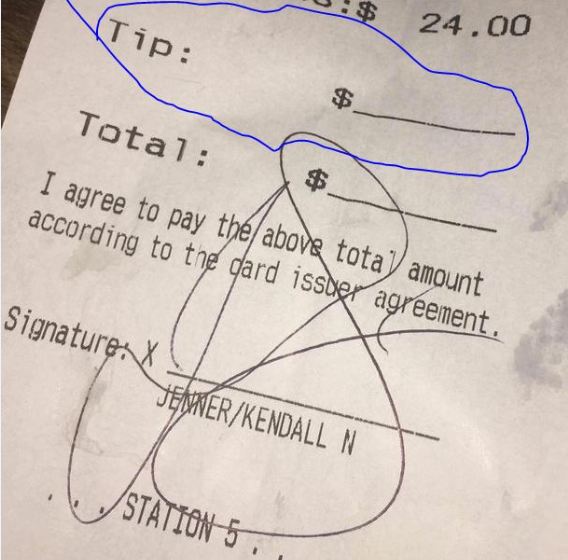 Above the Kendall's signature, the tip section was left blank, apparently prompting the bar to remind customers to leave tips.
READ ALSO: Usher's Herpes Saga: Another Woman says Usher Violated Her
The Instagram picture post was uploaded on Friday.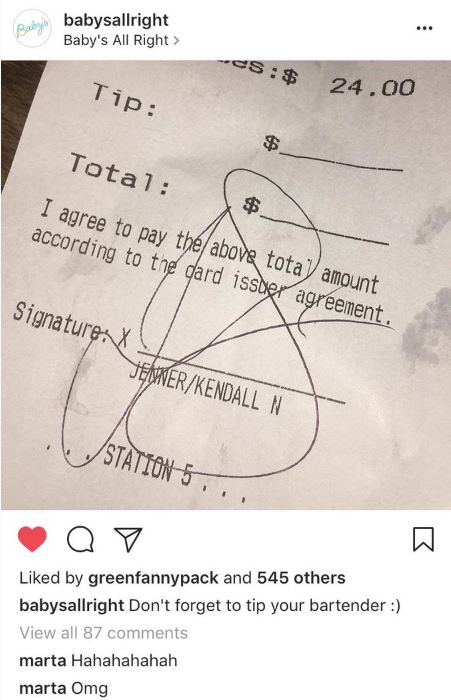 However, on Monday Kendall replied a Twitter user who insisted that there had to be "more to the story".
damn, i guess next time we won't tip in cash https://t.co/iZ4tFt3pg7

— Kendall (@KendallJenner) August 8, 2017
After the bar posted the bill, social media users mocked the socialite and model while others defended her.
Lol ignore these pathetic stories! ??‍♀️. Always trying to make you out to be a bad person! Jealousy springs to mind ?. Keep being you! ??

— Cia (@turk88_) August 8, 2017
lol kendall jenner doesn't tip *pretends to be shocked* pic.twitter.com/YLKLYswLvO

— sz (@zarasaidane) August 4, 2017