Obasanjo says there shouldn't be age limit for presidential candidates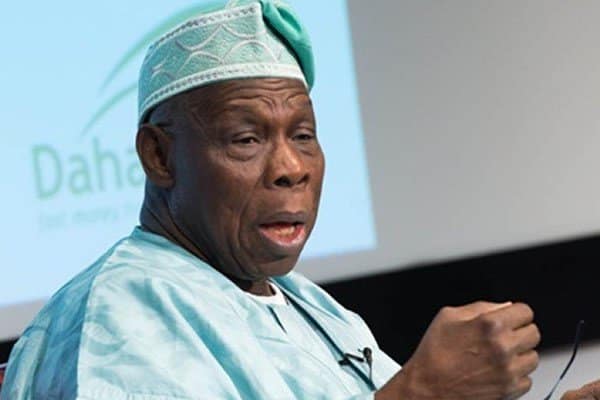 -Obasanjo said there should be no age limit for anyone to lead the country.
-He said competence and capability should be the qualification.
Former President Olusegun Obasanjo has said that there should be no age barrier for a presidential candidate, as long as the person has been chosen by the citizens.
Obasanjo said this on Sunday at an exposition series organised by the Touchbearer Society of the Archbishop Vining Memorial Church Cathedral, tagged "God in my life," in Ikeja, Lagos.
He said this while reacting to the proposition by the Senate to reduce the age of presidential candidates from 40 to 35.
He said that there should be no designated minimum age for presidential aspirants without also stipulating the maximum age one would no longer be able to contest.
He said that competence and capability should be qualifications for leadership rather than age.
Read also: Biafra: Nnamdi Kanu should be arrested – Edwin Clark
"Quite frankly, if we put minimum age, why are we not putting maximum age? If they put minimum age and then say that even if you are 90, you can be President, because there is no maximum age limit to being President. To me, there should be no age limit. Gen. Gowon became the Head of State at the age of 33, I became the Head of State at 39…I believe there should be no age limit; let the people decide," Obasanjo said.
Obasanjo, who attributed his achievements to grace of God while taking the audience through his experiences in the military and politics. He said he was of the firm belief that the military should not be involved in politics, adding that the military could provide security during elections but "military should not be directly involved in any election."
A former Commonwealth Secretary General, Chief Emeka Anyaoku, while commenting on Obasanjo's exposition, said the fact that Obasanjo escaped being killed by the late Gen. Sani Abacha, was a testimony of God's grace in his life.
Read also: Biafra: God has said Biafra would Emerge as a Nation – Apostle Mbazuruike
Anyaoku said, "There have not been many people who were saved from the jaws of death as our distinguished speaker (Obasanjo). And as he rightly acknowledged, he was saved by the grace of God.
"I happened to be in a position, where I was one of those very concerned at the time about his fate. I believe, your Excellency, that the first sentence that (the late Gen. Sani) Abacha's so-called military tribunal passed on you was death. And Abacha commuted it only after he was visited by two heads of state that I had joined in appealing to, to come and see Abacha. They were the President of Zimbabwe and the President of Uganda.
"Before then, I had persuaded Mr. Nelson Mandela to send his Deputy President, Thabo Mbeki. Thabo Mbeki came and spent about three hours with Abacha, returned home and Nelson Mandela called me to say that the mission had not succeeded. But it was not until these two presidents came and spent three hours and 15 minutes with Abacha, and when they left Nigeria and returned to their countries, one of them then phoned me to say that all that Abacha showed them was a video, alleging that our very distinguished speaker was part of a phantom coup. But these presidents said to me that there was no evidence.
Read also: Badoo: Suspected members smash woman's head after church vigil
"I must say my last telephone conversation with Gen. Abacha was the day he detained you (Obasanjo). I called him to say that that act in itself was the greatest disservice to our country. And Gen. Abacha said to me, 'Your Excellency, but you know I love this country and I am prepared to die for this country.' And I said, rather jokingly, to him, 'Your Excellency, you know that I am older than you, I have loved the country longer than you have.' He then said, 'We'll, if I can't convince you, there's no point anymore in this telephone conversation.' And then he dropped the telephone. That was my last conversation with Gen. Abacha. But I can tell you that the release of our honourable speaker of today gave the whole world immense pleasure. Because at one time, no less than 60 heads of state including a former American President wrote a letter to Gen. Abacha, calling for his release."
Download NAIJA NEWS app: