Reps Will Reconsider the Devolution of Powers Bill -Gbajabiamila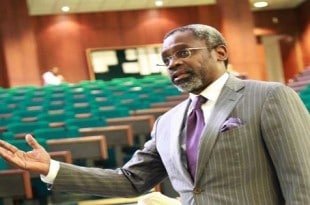 The Majority Leader of the House of Representatives, Femi Gbajabiamila, has asserted that the legislative action that halted the devolution of powers bill is an error that would be corrected once the house resumes from recess in September.
In a press statement, Gbajabiamila clarified that there are apparatuses which enable for backtracking on a decision when required or when 'new unknown facts emerge.'
"For me, it was a mistake or oversight to have lumped all items for devolution under one umbrella or subhead titled devolution of powers.
READ ALSO: Why Magu wasn't confirmed as EFCC chairman – Saraki
"There were about 9 items including Railways, Pensions, Arbitration, Stamp Duties, Parks and others under the subhead and members should have voted on each rather than vote in one fell swoop," he said.
The bill which sought to change the Second Schedule, Part I & II to move certain items to the Concurrent Legislative List to give more legislative powers to states suffered a major setback at the both chambers of the house as it didn't get 2/3 of the votes in both chambers.
Many Nigerians have criticised the dropping of the bill which has been described as an uncomplicated way to accomplish the prevailing agitate for the restructuring of the country.
One of many critiques of the lawmakers action is, the former Vice President and All Progressives Congress, APC, chieftain, Atiku Abubakar, who alleged members of the party in the Senate of betrayal following the decision.
READ ALSO: Police nab two fake blind beggars
He expressed that the decision of his party's senators  is treacherous, as it counters the party's election promises to bring about change by moving power closer to the people in the remotest regions of our country.
"This blockage of the Bill by an APC-led Senate majority is a betrayal of our Party's pre-election promises.
"It was an important vote and I'm shocked by some so-called progressives' visceral and cynical opposition to restructuring," he said.
Source: Naija News