See Jeff Bezos Net Worth and How He Briefly Toppled Bill Gates
American business mogul, founder, president, CEO, and chairman of Amazon.com, Jeffrey Preston "Jeff" Bezos, has a whopping net worth of $91 billion in July 2017, according to Bloomberg.
On Thursday, Forbes announced that Bezos net worth surpassed Bill Gates net worth on Thursday July 27, 2017, after a rise in Amazon's shares propelled the online retailer's CEO's net worth to $90.4 billion  According to the Bloomberg Billionaires Index, has about $500 million more than Gates.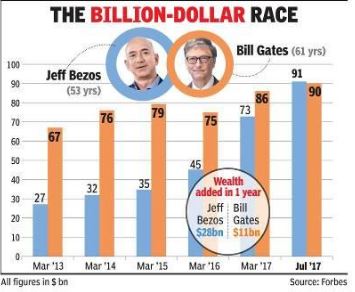 Though Bezo's net worth made him the richest man in the world, it lasted only six hours, as Bill Gates climbed back to the first position. Hence, Bezo's is back to his second position on the world's richest list.
READ ALSO: Bezos briefly overtakes Bill Gates as world's richest individual
Earlier this year, Bezos's was among the top ranks of the world's richest with a net worth of about $82.8 billion.
Bezos's net worth has steadily increased since the beginning of the year, as he started the year as the fourth-richest person in the world.
He has gradually surpassed Inditex SA founder Amancio Ortega, now the world's third richest, and Berkshire Hathaway's Warren Buffett, now the world's fourth richest person.
Since then, Amazon has made key investments including purchasing Whole Foods and expanding its role at the forefront of e-commerce with a record-breaking Amazon Prime Day earlier this month, where sales grew 60% from the same sale last year.
Bezos was born Jeffrey Preston Jorgensen into an average family in Albuquerque, NM on January 12, 1964 The Tau Beta Pi graduate of Princeton University, worked as a financial analyst for D. E. Shaw & Co. before founding Amazon in 1994.
Brilliant enough to attend Princeton, Bezos changed courses from physics to a BSc degree, in electrical engineering and computer science, in which he graduated with a distinction.
He then worked at Wall Street in 1986, a firm projected to be able to have upshot Bezos net worth. He however, left in 1994 to set up an online bookseller.
Bezos scribbled the business plan while he and his wife, Mackenzie, drove from Texas to Seattle, after which and they established the company in their garage.
The name they chose was Amazon.com – partly after the river, with its countless branches, and partly because it would quickly show up on lists ordered alphabetically.
The company gradually grew in the stock market in 1997 and showed its first significant profit in 2001, which catapulted Bezo's net worth.
Today Amazon.com has been grown into a multinational e-commerce company selling books, MP3 downloads, DVDs, CDs, video games, electronics, computer software, clothes, toys,  furniture and food.
Bezos' past share sales and other assets, such as the Blue Origin aerospace company, contribute a large amount to Bezos' $91 net worth.
According to Forbes, Bezos first became one of the 400 richest Americans in 1998, a year after Amazon.com went public, with a net worth of $1.6 billion.
Also, Fortune declared Bezos its Businessperson of the Year in 2012 and its World's Greatest Leader in 2016.
Amazon shares have increased by 40% this year through Wednesday, and Bezos' 17% ownership stake increased to $24.5 billion, tremendously increasing his total net worth, Bloomberg reports.
Bloomberg analyst survey project that Amazon is expected to see a quarterly revenue increase of about 22%.
Bezos is unlike Bill Gates and Warren Buffett, who have consistently committed to donating a large part of their wealth to charity, and have encouraged others among their ranks to do so as well.
However, the Amazon Chief Bezos is thinking in the line of giving back to society, and his Twitter followers last month for suggestions.
Request for ideas… pic.twitter.com/j6D68mhseL

— Jeff Bezos (@JeffBezos) June 15, 2017
Bezos's Property:
Bezos has a lot of luxurious property ranging from homes to accessories and cars.
See some of his property below: