We elected Buhari willingly… let's take him the way he is – Femi Adesina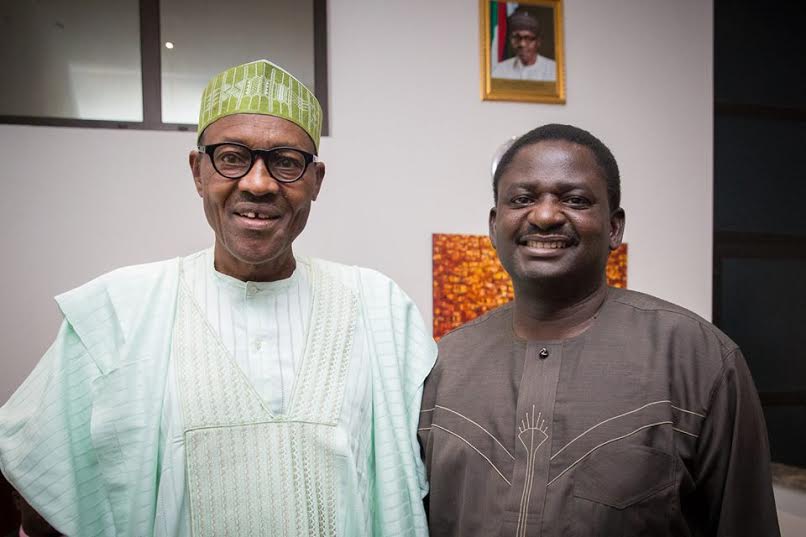 The Special Adviser On Media & Publicity To President Muhammadu Buhari, Femi Adesina has advised Nigerians to take Buhari the way he is.
Speaking on Sunrise Daily, a Channels Television programme, Adesina said after two years in office, Nigerians should have understood the way Buhari "prefers to do things".
"The style of our president is what you have seen on display. By now, two years after he came into office, I'm sure that we should understand him," he said.
"We should know the kind of person he is, we should know how he prefers to do things. So, that is the way the president is. We elected him willingly and we have seen that this is the way he is, so let's take him the way he is."
Adesina also spoke about the meeting some governors of the All Progressives Congress (APC) had with the president in London on Sunday.
"Governor Okorocha who is the head of the APC governors was in the delegation. We spoke on the phone and he gave me details. The president spoke with each person, state after state, asking of developments of their states," he said.
"He spoke with the minister of transportation on the development in his sector. He must have also spoken with the party chairman on the development in the party on the forthcoming convention and all that."
When asked that concerns maybe be raised because he got his information through a third party (Okorocha), Adesina said: "Imagine if there was no information at all, this is third party information quite all right.
"It is information that Nigerians are glad at, there has been lots of rejoicing in the country since yesterday. So it's something we appreciate."
He said in a few days, there would be another visit to Buhari in the UK.
"I am sure that in a couple of days, there is still going to be another visit, which may be more than this, but this is the first one and it was made mainly of APC governors and the national chairman of the party," the president's spokesman said.
Meanwhile, Buhari, who left Nigeria on May 7, has been away for more than 77 days attending to his health in London while his Vice, Yemi Osinbajo oversee Presidential affairs in his absence.
Download NAIJA NEWS app: