Breaking: Aisha visits President Muhammadu Buhari in London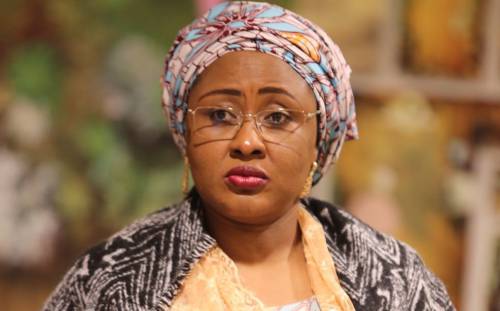 First Lady, Aisha Buhari, is currently in London on a visit to her husband President Muhammadu Buhari, Daily Sun has reported.
Aisha is visiting President Buhari in London amid speculations that she had been denied access to the President as a result of the perceived secrecy surrounding the president's ill-health,
Naija News  had earlier reported that President Buhari left Nigeria on Sunday, May 7, after writing a letter to the Senate on his travel plans to sick medical assistance in the United Kingdom.
Read Also: Cabals Plan to bring Buhari back to Nigeria on July 27
A frail-looking Buhari, 74, was last seen in Nigeria on state television welcoming a group of 82 girls released by Islamist militant group Boko Haram, hours before he flew to London.
According to Daily Sun, a very competent presidency source said that Aisha is currently with President Buhari in Abuja House, London.
The source said: "Aisha visited the President two weeks ago and is currently with the President."
The source also dismissed insinuations that the President is suffering from memory loss, saying the President is responding to treatment.
While stating that no specific date has been slated for the President's return, the source said the President's return "would strictly be on the orders of his doctors."
The source added: "Keeping the arrival date of the President secret is because of noise and exposure."
Probed further about the veracity that the First Lady no longer has access to the President, the source said: "It is not possible for a wife not to see her husband. The information is bandied around by people trying to tarnish the image of the First Lady."
While saying that the First Lady was sad to see people wishing her husband dead, the source however said the First Lady was living up to her challenges and doing her best.
"Anybody can be sick. But it is very unfortunate to see people wishing your husband dead," the source concluded.
Meanwhile, Naija News had previously reported that online news media, Sahara Reporters, has reported that the cabal in the presidency have made plans for President Muhammadu Buhari to return to Nigeria on July 27.