9ice Refers "Shashe" To Hard Work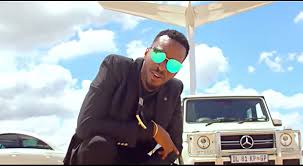 9ice has been in the news in recent times, for his song "Living Things" which has been critiqued by many starting with Falz blatant condemnation.
Prior to Falz public criticism of "Living Things", the song was not seen beyond its dance-able tune by many. However, since Falz's outcry of the song as harmful to to the youth  for its promotion of criminal activities, many people have carefully listened to the song and expressed their displeasure.
The song that apparently hails a number of individuals alleged of having ill-gotten wealth.
9ice hurriedly devised PR campaigns in order salvage his image and calm people's outcry.
One of such strategies was his recent interview on Channels TV's Rubbin' Minds with Ebuka Obi-Uchendu on Sunday. 9ice however made a poor attempt in explaining the meaning of his  "Living Things" and his assertion of winning a Grammy in his song "Street Credibility". He also appeared edgy and defensive.
READ ALSO: Nollywood Actress, Eniola Badmus in Hospital
About the winning a Grammy, 9ice refuted promising to win an award.  He said, "I was only talking about myself, just thinking out loud".
About that Grammy he sang about in ~Street Credibility~#RubbinMinds pic.twitter.com/XQC32CS5na

— Ebuka Obi-Uchendu (@Ebuka) July 17, 2017
His explanation of the meanings of 'Shashe' and 'Wire-wire'and defense for using them in his song "Living Things" was a huge disappointment.
9ice explaining on #RubbinMinds what 'wire wire' means from his single ~Living Things~ pic.twitter.com/st3LkMA6wr

— Ebuka Obi-Uchendu (@Ebuka) July 17, 2017
As evidently noted by Ebuka, those terms are street slangs for credit card and wire transfer fraud, which are the foundation of the 419/Yahoo-Yahoo scams that many young Nigerians have resorted to as an excuse for unemployment.
9ice thought it wise to say 'Shashe is an advanced name of sise (to work)' and tried including bitcoins and forex tradings in his unintelligent, incoherent explanation. He also explained  'wire-wire' as just a means of money transfer.
You guys also wanted 9ice to explain the meaning of 'shashe'.#RubbinMinds pic.twitter.com/XTrolSXNwV

— Ebuka Obi-Uchendu (@Ebuka) July 17, 2017
However it is evident in the Yoruba language as well as contemporay spoken Yoruba, there is no such act of working referred to as act of working been referred to as 'shashe'.
Source: Naija News