Magu: You Are On Your Own, Attorney General Malami Tells Osinbajo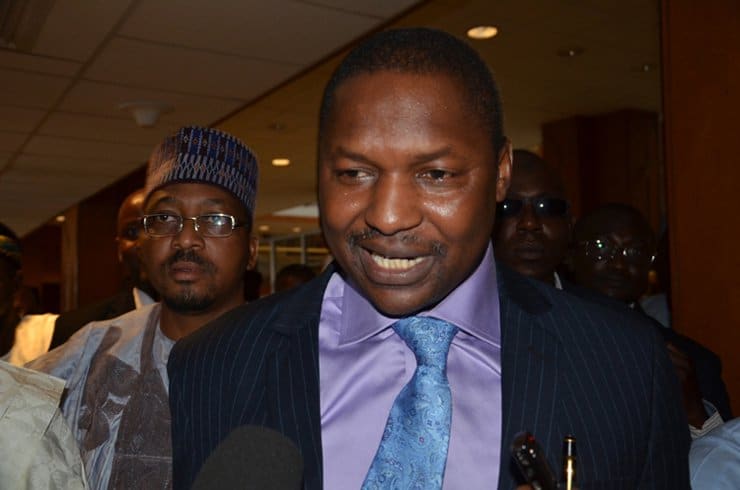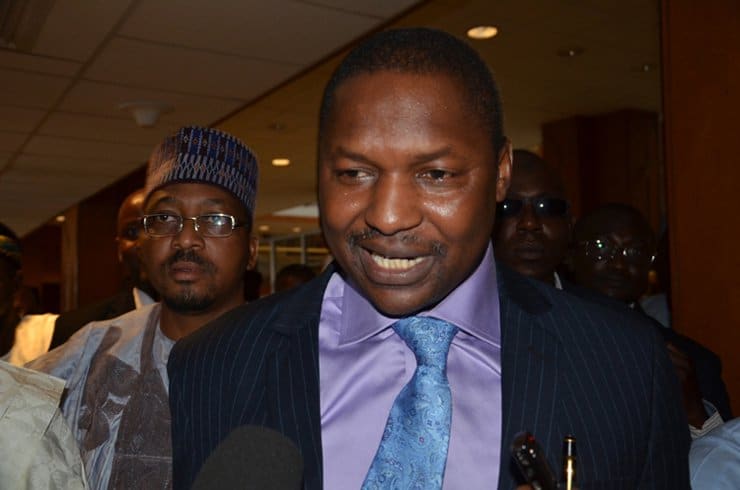 The Minister of Justice, Abubakar Malami, has distanced himself and the Federal Executive Council, FEC, from endorsement of the continuous stay of Ibrahim Magu as EFCC chairman by Acting President Yemi Osinbajo.
Malami said on Wednesday that Osinbajo's action was not a collective decision of FEC.
Speaking to journalists after a FEC meeting of the Federal on Wednesday, Mr. Malami said the Federal Executive Council never discussed the continued stay and possible re-nomination of Ibrahim Magu as chairman of the anti-graft agency.
The Nigerian Senate had twice rejected Mr. Magu's nomination as EFCC chairman, officially basing their decisions on a report compiled by the State Security Service, SSS, accusing Mr. Magu of impropriety; although many Nigerians believe the non-confirmation was because many of the senators are being investigated or prosecuted by the EFCC.
Earlier on Tuesday, the senate had criticised Mr. Osinbajo for allegedly questioning their constitutional authority to confirm the nomination of appointees by the executive arm.
Senators also expressed concern about the refusal of the Executive to drop Mr. Magu as the acting chairman of the EFCC.
When asked for comments by State House correspondents after the FEC meeting 
on Wednesday
, Mr. Malami said Mr. Osinbajo's stance was a personal decision never discussed at FEC.
"The fundamental consideration about the alleged statement is the factthat at no point ever did the Federal Executive Council sit down to arrive at the decision in one-way or the other as far as the issue of nomination or otherwise is concerned.
"So, I do not think it constitutes an issue for the Federal Executive Council to make any clarification about because it has never been considered by the FEC," he said.
Mr. Malami,  has been in the eye of the storm over his role in and dedication to the anti-corruption fight of the Buhari administration. Last month, an anti-corruption adviser to President Buhari accused Mr. Malami of not being committed to the anti-corruption war, a major promise of the president during campaign. Mr. Malami, who is believed to be opposed to Mr. Magu as EFCC chairman, denied the allegation.
The Acting President's office is yet to react to Mr. Malami's claim. However, a presidency source confided in PREMIUM TIMES that what Mr. Malami said was true.
"(Keeping Magu despite Senate rejection) was a decision reached between the president and his vice to sustain the anti-corruption war. I think they never took it to FEC," the source said.
Download NAIJA NEWS app: