Fayose: Buhari must resign, He insists president is breathing with machine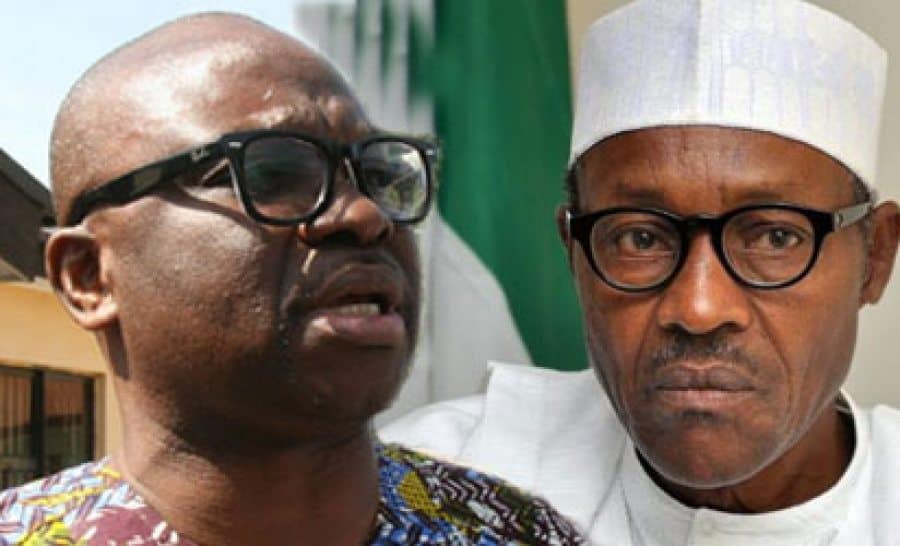 Governor of Ekiti State, Ayodele Fayose, has insisted that President Muhammadu Buhari is on life-support. The assertion he made while speaking to newsmen in Lagos on Monday, July 3.
Fayose said the recent trip by the President's wife, Aisha Buhari to London confirms his statement.
"It is six days since I addressed the press and today, I still insist that the President is indeed on life-support," the Governor asserted.
"The worsen condition of the President's health necessitated the hurried trip of our First Lady, Her Excellency Aisha Buhari to London and it is hoped that she will have the courage to tell Nigerians the truth this time around.
Read also: Aisha Buhari leaves for London to visit her husband, President Muhammadu Buhari
He stated further, "no one is interested in President Buhari's death. Rather, we are interested in freeing Nigeria from the hands of these few individuals who are presently holding the country to ransom."
Fayose added that Buhari must resign.
He said, "Today is the 184th day of 2017. Out of these 184 days, our President has spent 107 days abroad taking care of his health.
"How does a nation move forward when its President is spending the better part of his time abroad for Medicare?
"For how long can Nigeria and its people wait for a President who is incapacitated? For how long can our people continue to suffer just because some people want to hold on to power at all cost?
"That was the reason I raised the issue of President Buhari's age, health and mental capacity in 2015 and warned against electing him."
Read also: Just In: President Buhari Sends Greeting To Muslims From London
The governor further said; "Nigerians should be reminded that in 2010 when there was uncertainty over the health of the then President Umaru Musa Yar'Adua, President Buhari called on the National Assembly to impeach Yar'Adua.
"The Minister of Information, Alhaji Lai Mohammed who was the Spokesperson of the Action Congress of Nigeria (ACN) also said Nigerians should be briefed daily on Yar'Adua's health status. Lai Mohammed said then that 'the health of the President, as a public figure cannot be of interest only to his family and friends. Nigerians have a right to know."
"Just the same way President Buhari asked the National Assembly to remove Yar'Adua in 2010; I am also insisting that the President must be made to bow out of office so that Nigeria and its people can be saved from this state of uncertainty.
"No doubt, it has been argued that since Vice President Yemi Osinbajo is already functioning as Acting President, President Buhari can be bedridden for as long as his illness last, but the reality that Nigerians must accept is that the Acting President cannot fully exercise the powers of the President.
Read also: Resign now, you are incapacitated, Fayose tells Buhari
"However, pending his resignation, I am also aligning myself with what Lai Mohammed said in 2010 on Yar'Adua's health by demanding that he (Lai Mohammed) should begin a daily briefing of Nigerians based on authentic details provided by the President's doctors.
"Nigeria belongs to all of and its collective interest remains greater than those of any individual or group and together, we must save Nigeria."
Speculations about the deteriorating health of President Buhari ran rife shortly after he returned to the United Kingdom on May 7 for medical follow-up.
The Presidency tried to quench the flame of the viral death and life-support rumours by releasing an audio message of Buhari to mark the end of Ramadan fast in June, but this did not change the minds of many Nigerians.
Some critics observed that the President's frail voice in the audio further confirmed that all is not well with him, while others, including Fayose claimed the audio was fake.
On June 28, 2017, Fayose alleged that the day made it 20 days that Buhari had been on life support.
He had called on those he referred to as "cabal" in the presidency to allow the President to resign quietly, rather than throw the country into crisis.