10 Celebrities And Their Look Alike
There over 7 billion individuals on the planet earth and it very amazing how different people from different continents have striking resemblances. It is therefore not surprising how many individuals look like our beloved celebrities.
Here are 10 celebrities and their look alike.

1) Rihanna And Olajumoke
Fast rising model and former bread seller, Olajumoke Orisaguna has recently been widely reaffirmed  as having a striking resemblance after she attended the launching of her vlog Olajumoke Sauce.
2) Gbemisola Bankole and Tiwa Savage
Gbemisola is a Lagos based make-up artiste and fast rising actress who has starred in a new series, "The Bachelors". Her resemblance is so striking that you could mistake her for Tiwa Savage.

3) Odunlade Adekola And Lateef Adedimeji
It is not just a popular opinion but a glaring fact that Yoruba actor, Lateef Adedimeji has a striking resemblance with popular Yoruba Actor and producer, Adekola Odunlade. Though not related biologically, the two actors could be mistaken as brothers. Rumors have however been going around that Lateef is Odunlade Adekola's younger brother.
4) Genevieve And Ivie Ojukaye
Ivie Okujaye is a Delta State-born actress who has a strong resemblance to Genevieve Nnaji and as such has over time become known as 'Little Genevieve'. The resemblance has been said to go beyond the looks and has been observed in Ivie's  acting style.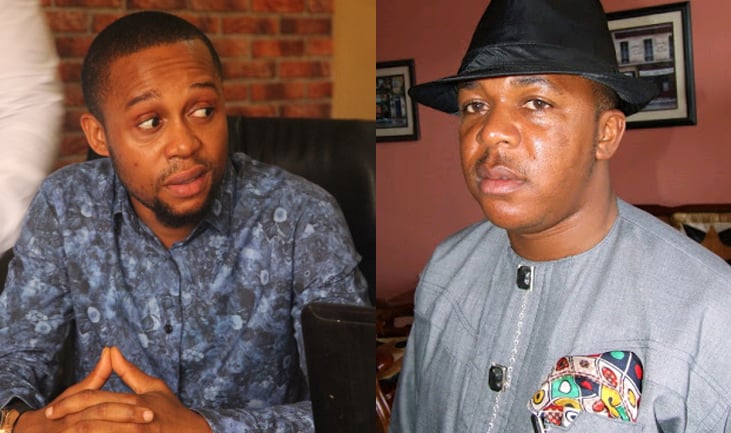 5) Sunkanmi Omobolanle And Francis Duru
Francis Duru is a veteran actor who's face we have not in movies for a while now and yes  Sunkanmi Omobolanle looks like him.Sunkanmi  is a prominent face in the Yoruba movie industry.
6) Uti Nwanchukwu And Gbenro Ajibade
Uti and Gbenro are both renowned Actors and Models, with Uti being one of the presenters of the television show, Jara.  The two celebrities have a  similar physical structure and are both dark skinned and handsome.
7) Toke Makinwa and Ope Bankole
Founder of Dellaz foundation and Dellaz artistry, Ope Bankole  is a fast rising make-up artist who looks like our very own media personality and author of "On Becoming" Toke Makinwa. Both ladies have a similar face structure and slender body.

8) Hanks Anuku And Majek Fashek
Hanks is a renowned actor while his look alike Majek Fashek is a Nigerian reggae singer-songwriter.  So we can say they are both in the entertainment industry, though there has not been much coming from them lately. Hanks is a true cabon copy of Majek Fashek and could pass for him anytime anyday.
9) May D and Adekunle Gold
Adekunle Gold definitely looks like singer, song writer and Dancer May D. While some individuals are still skeptical  about the singers' resemblance, a lot acknowledge how facialy alike they are.Though we have not heard much from MayD in a while, Adekunle Gold is still very young in the industry and releasing hit songs.

10) Adebantu And Bryan Okwara 
Adebantu is a veteran musician and songwriter known home and abroad and his look alike Bryan Okwara has a flourishing caree in Acting. They are both entertainers in their own write and defintely both look extremely alike. Yet, the thing that binds this two together is the obvious resemblance that they share.