Four Nigerian Army Personnel Killed In Boko Haram Attack In Borno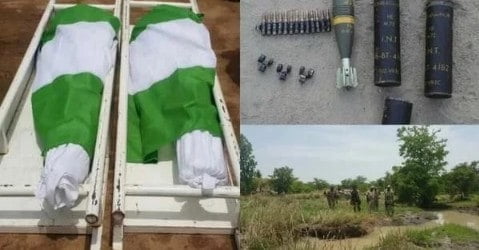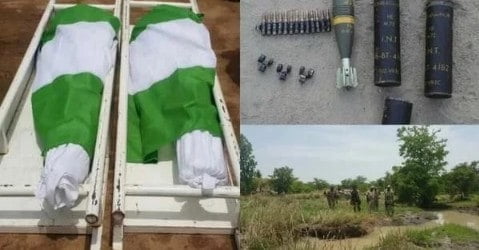 Four men of the Nigerian Army were killed in Borno state on Thursday when they encountered Improvised Explosive Device (IED) planted on the road on their way to Kangarwa and Alagarno village.
Sani Usman, army spokesman, confirmed the incident in a statement on Friday.
He said the attack killed an officer and injured three other soldiers sustained while the patrol vehicle was completely destroyed.
Read Also: Nigerian Army Arrests Top Boko Haram terrorist, Aliko
Usman, however, said three suspects who planted the explosive had been fished out and neutralised.
The army spokesman added that apart from clearance operations, troops stationed at Banki in Borno rendered humanitarian assistance to over 887 Nigerian refugees who returned from Cameroon since Tuesday.
He said the troops, also on Thursday, handed over one Jada Hachaba, who was abducted by insurgents to her mother at Gulak in Adamawa.
Read Also: Nigerian Army Sentences Officer To Death For Killing Boko Haram Suspect (photos)
The army spokesman explained that Hachaba escaped from captivity, adding that she was handed over in the presence of the district head of Gulak.
At Buni Yadi in Yobe, Usman said troops in the period under review discovered a 122mm D30 unexploded ordinance inside an uncompleted building at the federal low-cost housing estate.
He said the explosive ordinance team was drafted into the scene to safely detonated the explosive.
Usman said that based on credible information, troops arrested two suspected Boko Haram militants collaborators/informants; Abubakar Ahmed, 23 and Aji Maina, 45, on Wednesday.
"Both were arrested at Garin Gada and Kanamma after painstaking training," he said.
"Abubakar Ahmed was arrested while trying to collect relief materials for onward conveyance to Boko Haram terrorists, while Aji Maina was arrested while on transit at Kanamma en route Gamari in Niger Republic."