CAN cautions FG over new curriculum, calls it ungodly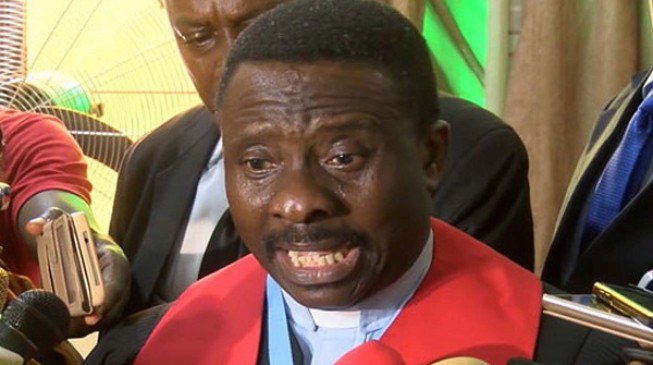 The Christian Association of Nigeria (CAN) has raise alarm over the secondary school curriculum introduced in 2015 by the Nigerian Educational Research and Development Council (NERDC)describing it as an "ungodly time bomb".
CAN insisted that Christian Religious Knowledge (CRK) has been removed, it asked the presidency to direct the ministry of education to publish details of the new curriculum on its website "so everyone can see what it contains".
It accused the ministry of education of attempting to use propaganda to divert attention from an issue that could set the country on fire.
Adamu Adamu, minister of education, had told state house correspondents after the federal executive council meeting that CRK is compulsory for Christian students.
Adamu also urged the media against promoting reports that could cause disaffection, but Ayokunle accused the minister of trying to cover up the matter.
"We caution the federal government against the use of propaganda in addressing this sensitive issue because the unity of the country is at stake. We are not crying wolves where none exists," Samson Ayokunle, CAN president, said in a statement.
"We are disappointed hearing the minister of education, Mallam Adamu Adamu claiming that CAN was believing a piece of misinformation received from the social media.
"In this curriculum, Islamic and Christian Religious Studies will no longer be studied in schools as subjects on their own but as themes in a civic education. This undermines the sound moral values that these two subjects had imparted in the past to our children which had made us to religiously and ethnically co-exist without any tension.
"Islamic Religious Knowledge was equally made available as a subject in another section without any corresponding availability of Christian Religious Knowledge. Is this not a divisive curriculum that can set the nation on fire? Is this fair to millions of Christians in this nation?
"If the new curriculum is treating the two religious subjects separately as being claimed, why do we have a satanic topic in the Civic Education like 'IS JESUS THE SON OF GOD'? Or is the acting president who disclosed to CAN leadership that this was in the curriculum he earlier saw lying too?.
"The implementation of the new curriculum must be suspended till a workshop is organised where all the stakeholders must be well represented."
CAN said it had examples of students being beaten for refusing to register for a religion against their wish.
"We have the names of the victims and their schools with us, including the text message from the parents of such students who were beaten," Ayokunle said.
"Not only that, in the forthcoming Basic Education Certificate Examination (BECE) 2017 timetable, which runs from Tuesday, July 4, 2017 to Thursday, July 13 in Kwara state, there is no CRK as subject to be sat for. Any reason for this? Instead, on July 13, 2017, it has the following; KW/BECE/ 203 Arabic CAIS, KW/BECE/204 IRK JIS; KW/BECE/407 ARABIC JIS and KW/BECE/205 Islamic History. Source:www.kwaraeducation.com."