Biafra Protest: Osinbajo Will Be Held Responsible If Any Igbo Is Killed
The Ohanaeze Ndigbo Youth Council, OYC, has vowed to hold Acting President Yemi Osinbajo, responsible if any Igbo is armed during the sit-at-home protest planned by pro-Biafra agitators to mark the Biafra Day on May 30.
In a press statement signed by the group's Deputy National President and the National Secretary, Dr. Arthur Obiora and Mazi Okwu Nnabuike, respectively, the OYC vowed to hold acting President, Yemi Osinbajo responsible if anything happens to any pro-Biafra agitator. It reads: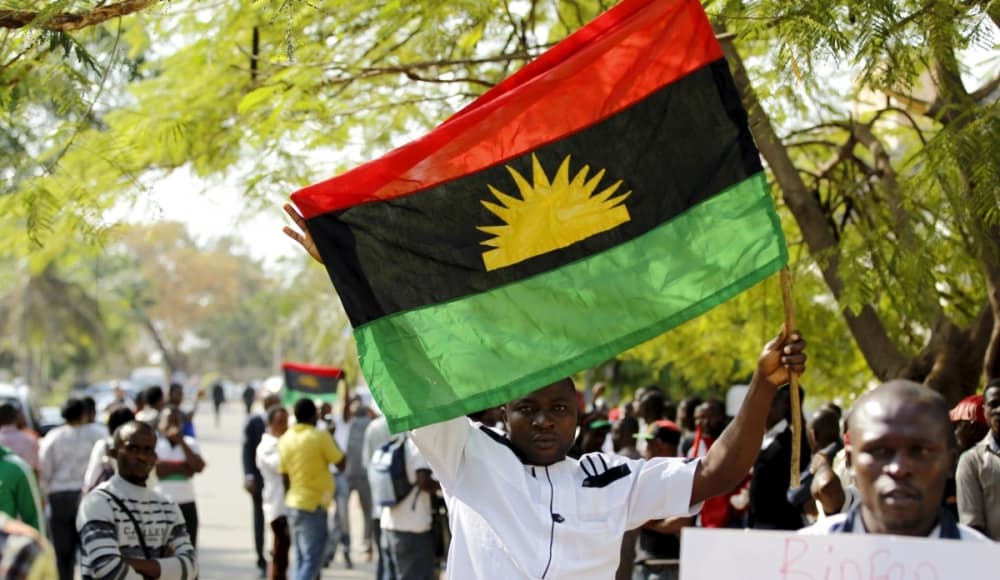 "Ndigbo shall hold Osinbajo responsible as the Acting President of Nigeria should anything happen to any of our youths.
"We shall not take lightly the spilling of the blood of any Igbo man today because these are non-violent agitators and their agitation is protected under every known law.
"As a Senior Advocate of Nigeria, SAN, the Acting President, Yemi Osinbajo is very much aware of the constitutional rights of these agitators and he should therefore not allow himself to be used as an instrument to suppress the lawful expression of opinion.
"He should, as the Commander-in-Chief of the Armed Forces of the Federal Republic of Nigeria call all security agencies to order to ensure that they do not engage in mass murder.
"We have had enough of this mindless killing of our people and we are not going to take it again this time."
The group called on Igbo traders and workers to comply with the sit-at-home order of the pro-Biafra groups, stressing that "the international community is watching; so, if we can show unity as a people, if we can show solidarity with Nnamdi Kanu and Uchenna Madu, the leaders of the Indigenous People of Biafra, IPOB, and the Movement for the Actualization of the Sovereign State of Biafra, MASSOB, respectively, the United Nations and other international organizations will not just accord us respect but help us in pushing for a referendum."
For the sit-at-home protest, pro-Biafra groups, MASSOB and IPOB have ordered the closure of markets, and restriction of movement, to honour the memory of Biafran war heroes, and slain activists.
Ahead of the event, the Inspector General of Police, Ibrahim Idris, has directed the Commissioners of Police to place their men and equipment on red alert in major Southeastern cities to deal "decisively" with the Biafra agitators.
Consequently, anti-riot policemen at strategic locations and combat ready police teams were conspicuously seen around major markets in Enugu on Monday evening, the PUNCH reports.
Moreover, the Enugu State Police Command warned that it would deal decisively with anybody or group that attempts to stop people from going about their normal activities.
The Enugu State Police Command spokesman, Mr. Ebere Amaraizu, who gave the warning said the police is working with other security agencies to forestall the breakdown of law and order.
"Ahead of the planned sit-at-home order being circulated by IPOB, MASSOB, amongst others, the Enugu State Command of the Nigeria Police Force has advised members of the public to disregard such order and go about their normal lawful business.
"The Command is also advising law-abiding members of the public to watch out for any person or group of persons under any guise who will come to intimidate, threaten or force them to shut down their offices or shops and report such threat to any nearby police station.
"The Command in partnership with other sister security agencies and relevant bodies have put in place adequate machinery as security apparatus have been mobilized to fish out those in this habit and bring them to book.
"The Command has advised those intending to carry out this unpatriotic and unlawful act to change from this, as the Command working in partnership with other sister agencies in the state, will not sit and fold its arms and see innocent and law-abiding citizens of the state being molested or threatened by any person or group of persons," Amaraizu said in a statement.
The police spokesman also released phone numbers, and social media platforms, through which members of the public could reach the Command to report any breach of law and order on May 30.