President Buhari Treats Me Like His Son – Yemi Osinbajo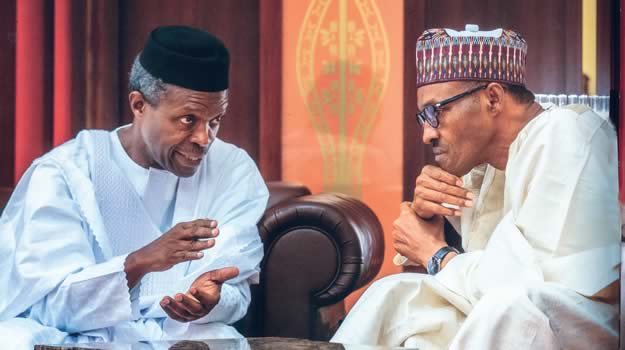 Nigeria acting President,  Yemi Osinbajo says President Muhammadu Buhari treats him as one of his sons.
According to Laolu Akande, the spokesman of the vice-president, Osinbajo disclosed this on Thursday during his visit to Katsina state for the launch of the micro small and medium enterprises (MSME) clinic in the state.
Shortly after his arrival in the state, the acting president proceeded to the palace of Abdulmumini Usman, emir of Katsina.
"In fact, the president has taken me as a son in the way he treats me," Akande quoted Osinbajo as saying.
"I feel very much at home in Katsina. Moreso because this is the state of the president who has taken me as a brother.
"The amount of responsibilities President Buhari has given me shows he seriously believes we can live together as brothers.
"I pray the Lord will preserve our president to continue to lead as the nation has voted him to do. He seriously believes in Nigerian unity."
4. Ag President in responds "I feel very much @ home in KT. Moreso because this is the State of the President who has taken me as a brother"

— Laolu Akande (@akandeoj) May 11, 2017
5. Ag President Osinbajo continues: " in fact the President has taken me as a son in the way he treats me"

— Laolu Akande (@akandeoj) May 11, 2017
6. "The amount of responsibilities President Buhari has given me shows he seriously believes we can live together as brothers"-Ag President

— Laolu Akande (@akandeoj) May 11, 2017
7. "I pray the Lord will preserve our President to continue to lead as the nation has voted him to do. He seriously believes in Ngr unity"

— Laolu Akande (@akandeoj) May 11, 2017
https://www.youtube.com/watch?v=7dNhz6RkYgU
Download NAIJA NEWS app: