Breaking: Senator Isiaka Adeleke Finally Buried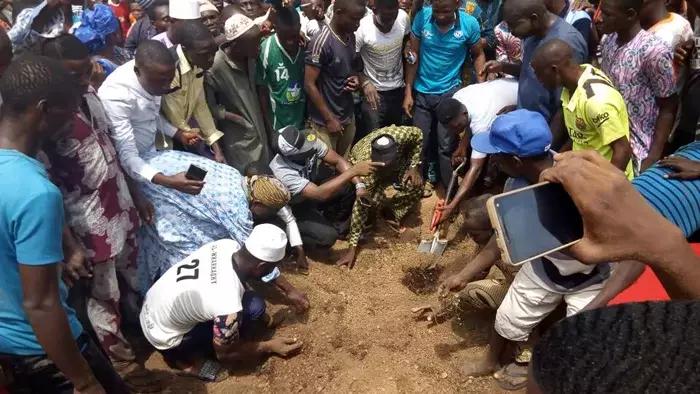 Osun state Governor and serving senator, Isiaka Adeleke, who died on Sunday April 23, has been buried today.
Adeleke was serving his third three-term as a senator on the platform of the All Progressives Congress (APC) in 2015, died at the age of 62.
He was buried today, April 24, in his country home, Ede, Osun state according to Muslim rites.
Naija News learnt that Governor Ibikunle Amosun of Ogun state and Governor Rotimi Akeredolu of Ondo state were at the venue of the burial to pay their last tribute to the late senator.
Also, an irate mob reportedly destroyed the canopy on Amosun, Akeredolu, Oyinlola to chase out Idiat Babalola, who is a commissioner nominee of Governor Rauf Aregbesola.
Also under the canopy were Prince Olagunsoye Oyinlola and Deji Adeleke.
Babalola who was seated among the dignitaries including the younger brother of the deceased, Deji Adeleke, was chased out by the youths who alleged that the former governor was poisoned by some APC leaders.
The irate youths said Babalola was being touted to become the running mate of the anointed candidate of the APC.
Babalola was escorted outside the house by Amosun and his security aides as the youths threw sticks and mangoe fruits at her.
Watch video of Sympathizers at his residence: