Nigeria Army launches operation against herdsmen in the southern Kaduna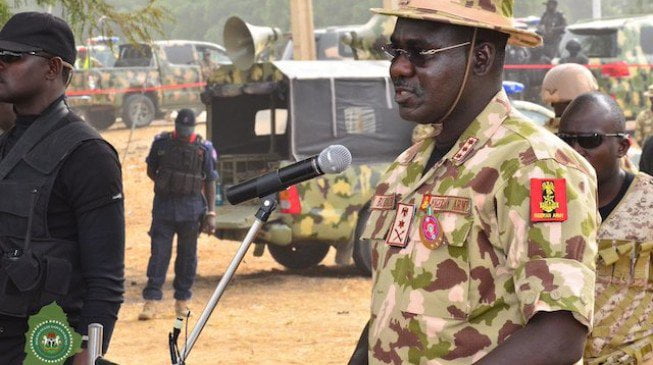 Tukur Buratai, chief of army staff, has launched a new operation: 'Operation Harbin  Kunama II' is to tackle the menace of herdsmen in the southern part of Kaduna State.
Speaking at the event in Kafanchan on Wednesday, Buratai said the army is determined to ensure that there is peace in the area.
He expressed confidence in the officers deployed in the area.
"I know it has been in the press and it has generated a lot of interest, but we are determined to shoulder the major responsibility of keeping the peace always and it is better to do this job than to leave it until it goes out of hand. God forbid," Buratai said.
"I have seen confidence in all the officials that have briefed us and I have seen improvements in their understanding of the environment."
On his part, Nasir el-Rufai, governor of Kaduna, said the crisis in southern Kaduna had attracted a lot of attention because of the religious undertone given to it.
Warning the perpetrators of the crisis to desist, el-Rufai vowed that his administration would not stop going after those fanning the embers of discord.
"The first step is what you are seeing today, to stabilise the place by ensuring that the presence of security to protect lives and property and then to target areas of hideouts for the bandits and flush them out," he said.
"Our hope is that, with the completion of these operations, we will relax the curfew.
"The second step which we have started concurrently is to arrest perpetrators of these crimes, whether it is those that write hate speech or go to churches and mosques and encourage others to kill or supply arms to young people and drug them so that they can kill, we have been monitoring them and we will be arresting and prosecuting them.
"This is what has been missing in this part of the state in the last 37 years, people have got away with murder and that has inculcated a culture of impunity, by God's grace we are going to change that because some people would be prosecuted for what is happening here.
"Everyone one that we lay our hands on would be brought before a judge."
The insecurity in the area has been a source of concern to the government and Nigerians at large.