Facts you need to know about the 6 killed Apo Igbo traders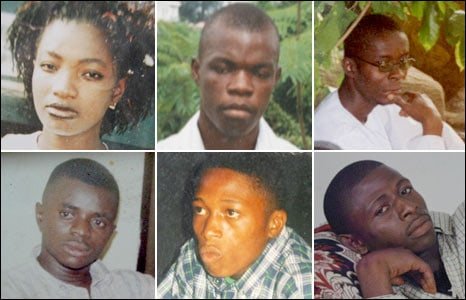 Nigerians on June 7, 2005, woke up to the horrific news of the death 6 Igbo traders (Apo 6)  who were killed by police officers and tagged as armed robbers. 
Unaware of the terrible fate that lay ahead, these victims set out for a night of fun and merry making before they were killed.
The defendants had pleaded not guilty to the allegations, making the trial to go through full stretch of adjudication from 2005 to date. Until, today March 8, the Federal Capital Territory Court sentenced two former police officers involved to death.
Here are basic facts you need know about the 2005 'Apo 6' killing
1. Who were the culprits?
The culprits were the Abuja policemen. The 5 policemen were accused of extrajudicial killings of the six Apo traders, on their way home in 2005.
2. The culprits' names
The policemen involved in the killing are Danjuma Ibrahim, and Othman Abdulsalami, are still at large, Nicholas Zakaria, Ezekiel Acheneje, Baba Emmanuel, and Sadiq Salami were arrested.
3. The location of the victims
The victims, Ifeanyi Ozo, Chinedu Meniru, Isaac Ekene, Paulinus Ogbonna, Anthony Nwokike and Augustina Arebun were at a nightclub located at Gimbiya street, Area 11 in Abuja on the night of the incident.
They were returning from a night party in 2005 when they were killed.
4. The reason for their death
There was a disagreement between the group and one of the police officer, Ibrahim when the female victim, Augustina turned down the senior officer's love advances at the club.
5. The age of the victims
The deceased were between 21 years and 25 years of age when they were killed by the police officers.
6. The accusation on the victims
The police officers claimed that the five men and the woman were gunned down because they were armed robbers.
7. Those involved in the killing
The five officers accused of the killings and eight other police witnesses eventually testified that a senior officer involved, Ibrahim, allegedly ordered the killings.
8. What prompted the police officer
The police officer, Ibrahim due to his pride and ego was bruised by late Augustina's refusal to accept his love proposal he made at club. He then set out for revenge on the female Igbo indigene.
9. The officer's killing motive
In order to carry out his revenge, Ibrahim went to a police checkpoint at the end of the street and told officers on duty that they were a group of armed robbers in the area.