Naira maintain value against dollar at parallel market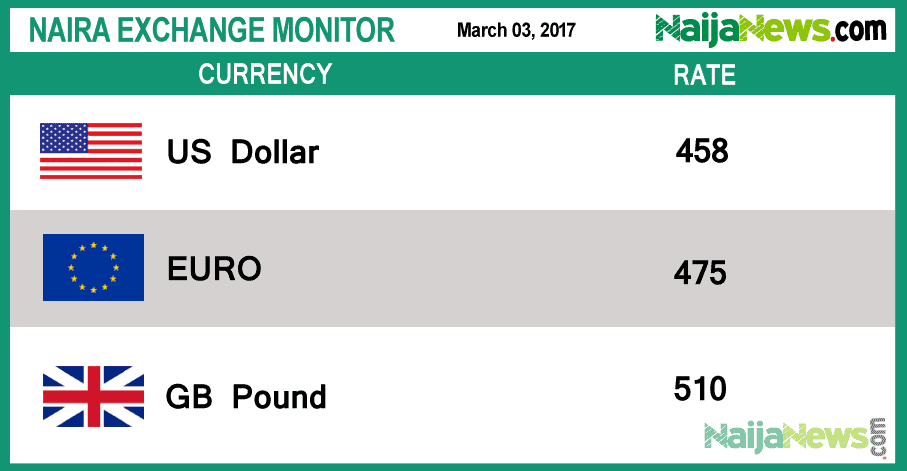 Nigeria official currency Naira on Friday, March 3, maintain its value against American Dollar, Pound Sterling and Euro at the parallel market.
According to reports, the local currency still trades at N458 per dollar as it was yesterday, March 2.
The Naira also maintained the N540 against the Pound and N475 rate against the Euro.
The Central Bank of Nigeria (CBN) has said the Naira has being gaining against major international currencies in the foreign exchange market in recent weeks due to its decision to deepen its intervention in the market.
Mr. Isaac Okoroafor, CBN's spokesman told journalists at a press conference in Sokoto,
According to him, on the first occasion, the CBN placed $500 million but that only N$370 million was taken. He added that on a second occasion, the apex bank placed $230 million and that only $221 million was taken, to demonstrate that the pressure was easing in the market.
He refuted claims in social media reports that the current appreciation of the Naira was because a self-acclaimed whistleblower exposed an alleged corruption in the forex market where it was alleged that some people received dollars at a rate as low as 61 kobo/$1.
Recall that just last week, the value of the Naira recorded the highest and fastest gain of 11.9 per cent in four days at the parallel market, in over three years.
Source: Naija News