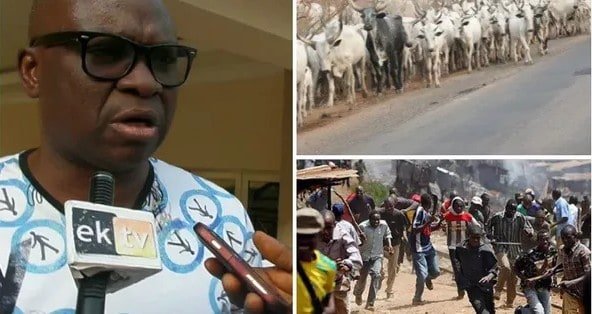 A Fulani herdsman, Ahmed Dele has been killed in Ekiti by yet to be identified people while he was grazing his cattle in Omu town, Oye local government area.
According to Punch, Dele was chased by some men until they finally caught him a few kilometres away from the town and beheaded him.
Governor Ayo Fayose vowed to fish out the perpetrators of the crime although he denied that it was a rift between herdsmen and farmers.
In a statement released on Saturday, February11 by Idowu Adelusi who is the chief press secretary to the governor, Fayose called on the police and operatives of the Department of State Services to fo their job and bring the evil perpetrators to book.
He said: "Information gathered indicated that the herdsman, Ahmed Dele, was killed by ritualists and not as a result of any conflict between the cattle rearers and the farmers."
On the clash between the Aiyede and Itaji communities over land dispute, Adelusi said Fayose had set up a panel, headed by the Oluyin of Iyin Ekiti, Oba Ajakaiye, to look into the matter.
He said: "The government is prepared to implement the report of the panel.
"Governor Fayose has charged the police and DSS to fish out the killers and other criminals in the area and charge them to court immediately."
"He vowed to deal decisively with the criminals and those harbouring them and asked landlords to hand them over to the police without delay.
"He (Fayose) has also asked traditional rulers of the communities to cooperate with the security agents to fish out the killers.
"The state government enjoins traditional rulers to promote and maintain peace within their domains."