Update: "I Stand With Nigeria" Lagos Commissioner Of Police Walks With Protesters
The EnoughisEnough (EiE) Nigeria, the coalition behind the "I Stand With Nigeria/One Voice Nigeria" rallies have gone ahead with the "I Stand With Nigeria" protest in lagos. The protest started around 7:00 am in the morning at the National stadium in Surulere. Since the protest started there has been presence of heavy security in the stadium
There was heavy security on Monday at the National Stadium in Lagos, where the 'One Voice' protest is gearing to hold.
You will recall that music icon, Innocent 'Tuface' Idibia, has announced the cancellation of his protest scheduled for today but the protest is going on without him.
Meanwhile Lagos State commissioner of police, Fatai Owoseni who had earlier vowed to stop the nationwide protests, was spotted among the protesters in Lagos as they walked to the National Theater.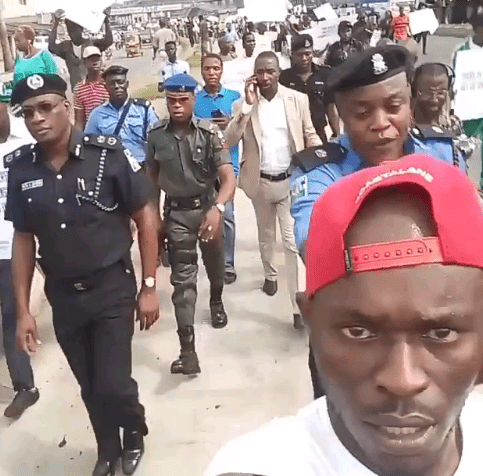 Here are photos of the situation this morning in Lagos.