Maje Ayida Hires International Lawyers To Sue Toke Makinwa Over "On Becoming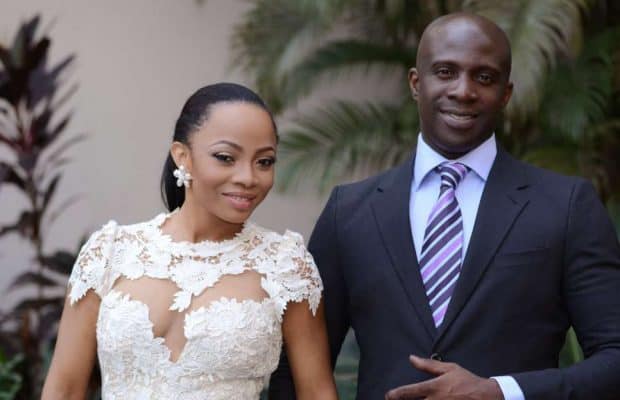 Celebrity fitness instructor Maje Ayida,  has hired British lawyers to sue his ex-wife Toke Makinwa over her book 'On Becoming'.
Maje said it "is untrue that he gave Toke Makinwa a sexually transmitted disease in the past or at any stage in their relationship. It is also highly misleading". 
Maje's lawyers have also sent the on-air-personality, a "letter of demand" which says Toke Makinwa's book contains "defamatory words", The Cable reports.
The firms Maje Ayida hired in the United Kingdom and Nigeria are: Carter-Ruck, a leading defamation law firm in the UK to top figures like Simon Cowell, Elton John and Chelsea FC while Kemi Pinheiro (SAN) of Pineiro LP is heading the legal front in Nigeria.
According to the letter of demand sent to Makinwa, her estranged husband was said to have "requested legal separation" from her "within 6 months" of their marriage in January 2014 — "when it became clear that the marriage was breaking down".
Makinwa was alleged to have signed a legal separation agreement in July 2014.
The letter said it was well documented that Makinwa and Ayida had agreed to separate by July 2014, which the book failed to record.
"The book misleadingly describes the circumstances at the time,"
the letter read.
Pinheiro LP, the Nigerian law firm, said it was untrue that Maje had given her an "STI in the past or at any stage in their relationship."
The law firm also noted that it was "highly misleading" for the book to allege that Maje "did not financially contribute adequately" to the marriage.
"The publicity sought by you has been relentless, and limitless," said Adebowale Kamoru in the letter of demand, on behalf of Pinheiro LP.
Maje Ayida, through his lawyers, has, among other things, informed Makinwa to retrieve the already-sold books and stop all forms of distribution.
The letter mandated Makinwa to "withdraw from circulation all copies of the book and take immediate steps to call in all copies of the book already distributed and deliver up same at the place to be agreed upon by our client for destruction."
It further said a failure by the popular celebrity to "retract" the "published words" and tender a full page unreserved apology to Maje Ayida in three national dailies "will result in the commencement of legal action."
Makinwa was also advised to "take immediate steps" to stop the distribution of the books on Amazon, iTunes and all forms of promotion on her social media accounts.