BREAKING: DSS finally invites Apostle Suleiman for asking christians to kill Fulani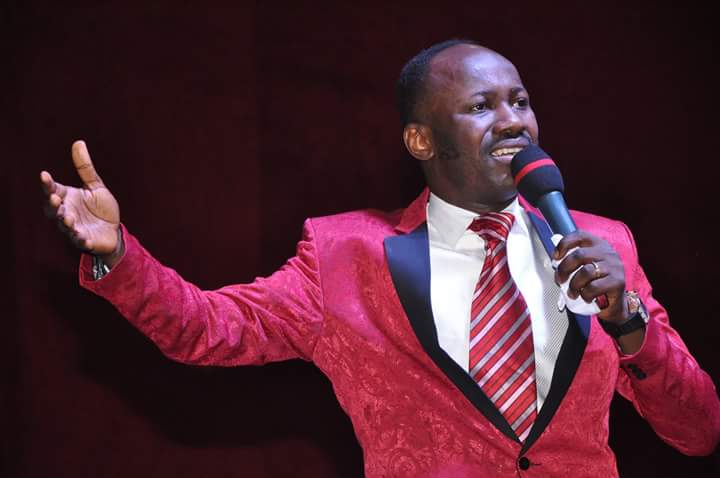 The Department of State Services (DSS) has invited Apostle Johnson Suleiman of the Omega Fire Ministries World wide after a failed attempt to arrest him in Ekiti state
He is expected to be at the DSS office in Abuja by 10am on Monday, January 30.
A statement from one Barr A Tareri said: "URGENT!!! The DSS has invited Apostle Johnson Suleman to appear before the Abuja office for interrogation by 10 am on Monday 30/1/17.
"Let every Christian come out in a procession to accompany Apostle Suleiman to the DSS office.
"He spoke for us all. We stand against the shameful silence of Nigerian government over killing of Christians in Nigeria; intimidation/harassment of the church with state security agencies and the Islamic agenda of this regime.
"United we stand and Together we will win this battle. Christians awake!!!!! Pls forward this invitation to every contact and God will fight your battles in Jesus name."
Apostle Suleiman had revealed that there was a plan to use the Fulani herdsmen to attack him and his church.
While condemning the do-nothing approach adopted by the government as the Fulani herdsmen continue to kill people and destroy properties in the country, Suleiman, in a video, told his church members to kill any of such attackers who either came for him or his church.
While many Nigerians commended him for speaking out against the persecution of Christians in the country, some demanded for his arrest.
The Sultan of Sokoto, Sa'ad Abubakar, also called for the arrest of clerics who encourage violence through reprisal, adding: "I have never picked up the microphone to insult any Christian leader. We should be tolerant of one another and work towards achieving peace in this country.
"I have never lost hope in this country as far as the search for peace of this country is concerned. No matter what happens, those championing peace will succeed at the end of the day.
"There is friction between Christians and Muslims which is caused by preachers of hate. While we pray for peace and dialogue, preachers of hate must be reported to the security agencies.
"I will not hesitate to add here that no outsider can bring peace to us. The outsiders can only help us. we must work hard for peace and leave in peace."