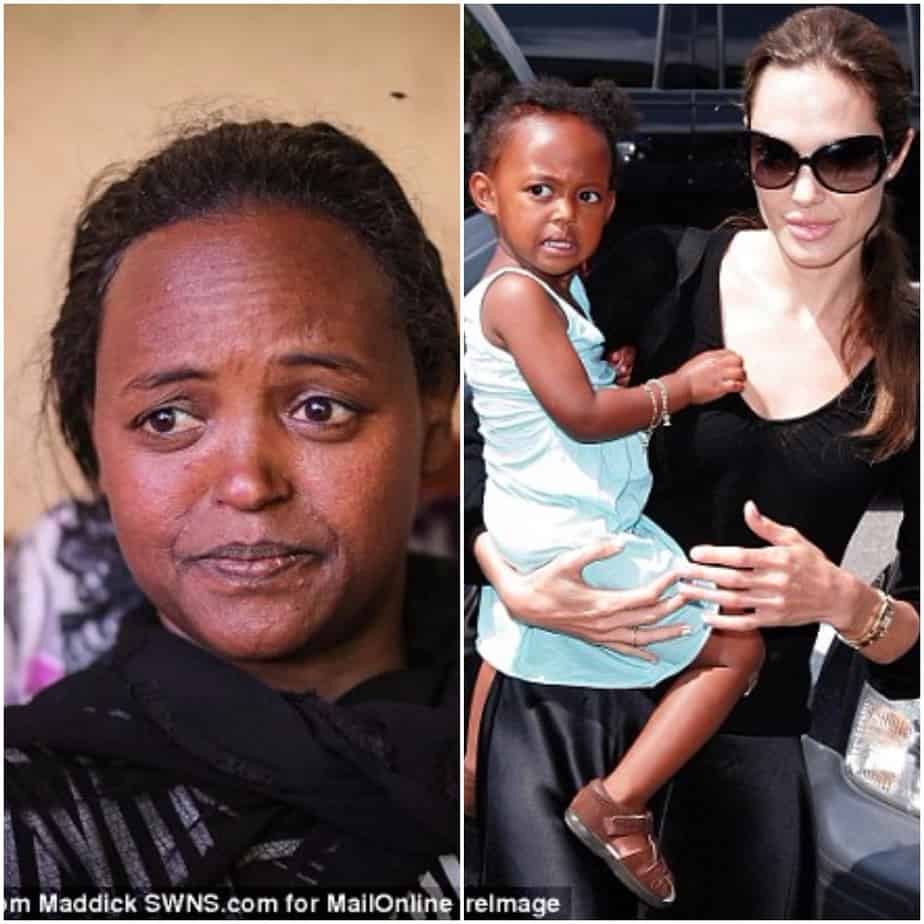 Mentewab Dawit Lebiso, the biological mother of Angelina Jolie's adopted first daughter, Zahara Jolie-Pitt, is pleading to reconnect with her daughter, 12 years after her baby's adoption.
41-year-old star actress, Angelina Jolie adopted Zahara at six months old as a single mother in 2005, and her then partner Pitt, 53, requested to legally adopt the girl a year later.
Lebiso explained that she was 19 when she gave birth to a baby girl, whom she named Yemasrech. She said Zahara's father is unknown as she was conceived by a brutal rape.
"My baby was sick, and I was very weak and sick after birth, I agreed that she should be put up for adoption but if I had my chance again I would have kept her," she said.
Speaking to the DailyMail, Ethiopian Lebiso who hasn't had any contact with Zahara since she gave her up for adoption, explained that she's hoping to be a part of Zahara's life. 
Lebiso says she's never stopped thinking about her daughter, and misses her. She however humbly admits that Jolie has given her daughter an incredible life, but that hasn't helped the longing to have a relationship with her child. Hear her:
"I just want her to know that I am alive and here and long to be able to speak with her. I do not want my daughter back but just to be in contact with her and be able to call her up and talk with her…
"Angelina has been more of a mother to her than I have ever been. She has been with her since she was a baby, but that does not mean I do not miss her. I miss her all the time. I think about her every day and long to hear her voice or see her face. I know when she has a birthday, but I am sad because I can't celebrate it with her. I would so much want to celebrate with her on her birthday and other special days."
"I would like Zahara to know she has a mother who loves her as much as Angelina. I know her life is with Angelina is in another country and she speaks another language than me. She has a life that I could never give her, but I would still like to have some contact. I would like to see her face. She has grown into a beautiful woman, and I am so proud of her. My heart bursts because I am so proud."
"We all die sometime and before I die I would like her to know about me and that she has family here in Ethiopia. I would ask Angelina to let me speak with her. I do not think it is too much to ask."
On the contrary, it seems that at the time of Zahara Jolie-Pitt's adoption, Angelina Jolie and her erstwhile partner, Brad Pitt were first unaware that Lebiso was alive because they were told Zahara was orphaned when they adopted her.
In a 2006 CNN interview, Jolie speaking of Zahara said; 'She's from Ethiopia, she's an AIDS orphan.' It's likely they discovered Zahara's birth mother was alive when she gave her first interview in 2007.
Lebiso's plea comes in the middle of Jolie and Brad Pitt's divorce and custody battle over Zahara Jolie-Pitt, 12, and their other five children, Maddox Jolie-Pitt, 15, Pax Jolie-Pitt, 13, Shiloh Jolie-Pitt, 10, Knox Jolie-Pitt, 8, and Vivienne Jolie-Pitt, 8.