Leaked Video: They fed us two Indomie per day – Nigerian soldiers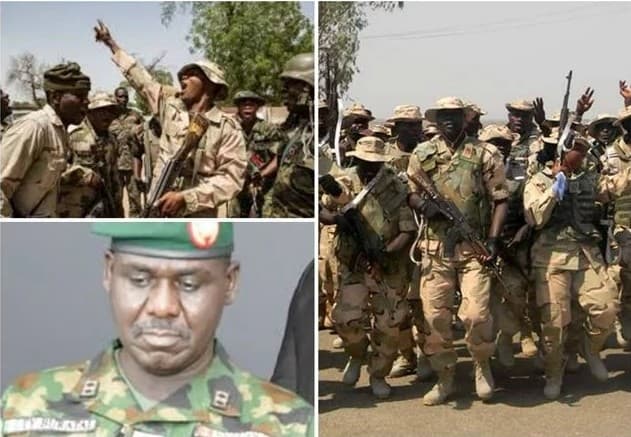 According to Premium Times, Nigerian soldiers who revolted against their superior officers inside the dreaded Sambisa forest in December were protesting the poor treatment meted out on them by military authorities.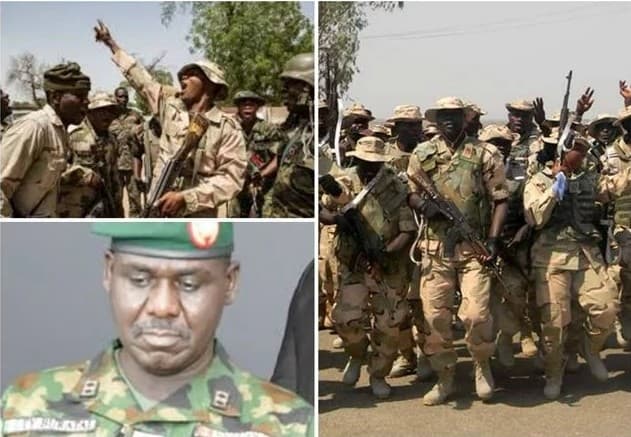 News broke on December 16, 2016, that there was complete breakdown of order and discipline at the 21 Brigade of the Nigerian Army with soldiers deployed to rout Boko Haram from the dreaded Sambisa forest in Borno state turning against their officers and firing gunshots in all directions.
People familiar with the matter said the troops complained of mistreatment and then began to shoot indiscriminately, threatening to kill any officer who stands on their way.
The soldiers had turned against their superior officers, protesting and shooting indiscriminately.
But soon after this news broke, the army denied that the soldiers ever revolted against their superior officers.
Victor Ezegwu, the General Officer Commanding of the Nigerian Army 7 Divison said: "I want to assure that nothing like mutiny happened in Bama. Nothing happened."
He told reporters in Maiduguri:"I just came back from Bama and nothing like that happened."
However, a video footage recorded just after the angry soldiers were pacified which not only showed that the revolt actually occurred but also revealed the reasons for the soldiers' actions has been leaked.
In the footage, the soldiers said they were poorly fed, lacked water to bath, were overworked and without basic equipment and vehicles for transportation.
The footage shows a superior officer, holding a swagger stick and wearing a bulletproof vest, with his back to the recording device. He was addressing a group of soldiers.
The unidentified officer asked for "any witness" of the revolt to come forward and speak on the reason for the disturbance.
Apparently, to encourage the soldiers to speak out, he told the soldiers that he understood their frustration and pain.
The officer said: "For you now, I know your problem. I know your feeling. For the fact that you have been here and you have been on this. For that alone, it is stressful. Even me, I'm stressed.
"So you cannot now because of that anger, you will not be able to articulate your problem. But I will give you the opportunity. Just calm down and let me know the major problem."
One of the soldiers then stood up to speak on the unfavourable conditions troops fighting the insurgents were subjected to.
He said soldiers were sent for operations without knowing when their tour of duty was supposed to end and they usually had to protest before they were allowed to go home.
The officer who spoke said: "Let me just tell you the truth. Each time when we want to go for operation they will not tell us how long we are going to stay for the operation. They will keep deceiving us, on almost all the occasions we end up fighting before we leave the operation."
Perhaps the most embarrassing aspect of the soldier's complaint was on how they were fed.
One of them, who was encouraged by the others said: "Now we are advancing, there is no food to eat. Every day, they give us two Indomie (sachets of instant noodles); that is what we eat. How would you survive with two Indomie?
"And there is no water. As I speak to you this the eighth day that I have not taken my bath, no water to drink, nothing."
He also commented on the poor provision made to transport soldiers from the front, but his voice was drowned by the shouts and clapping from other soldiers.
"We were told we are going to go and hit Camp Zero, that after hitting Camp Zero that will be all for us. We went up to Chibiya and spent about six days and seven days and after everything we are supposed to go to Camp Zero and all our vehicles and equipment have developed faults.
"The army is supposed to come and take us away from that place, fix those vehicles and we are ready to fight; because as I speak to you 80 per cent of the vehicles are not good."
The soldiers have since chased out Boko Haram from Sambisa forest in a move commended by Nigerians including President Muhammadu Buhari. The Army has said the forest will now be used as a military training ground.
Meanwhile, the Army announced on Tuesday, January 3, that 800 soldiers have been deployed to Darfur for peacekeeping.
Lieutenant General Tukur Yusuf Buratai revealed this at the Nigerian Army Peace Keeping Centre during the graduation of 755 soldiers and 45 officers that participated in the pre-deployment training in Jaji, Kaduna state.
Watch the leaked video below:
Story continues below advertisement
---
---
© 2023 Naija News, a division of Polance Media Inc.