32 Years Old Man Beaten Up, Stripped For Raping Teenager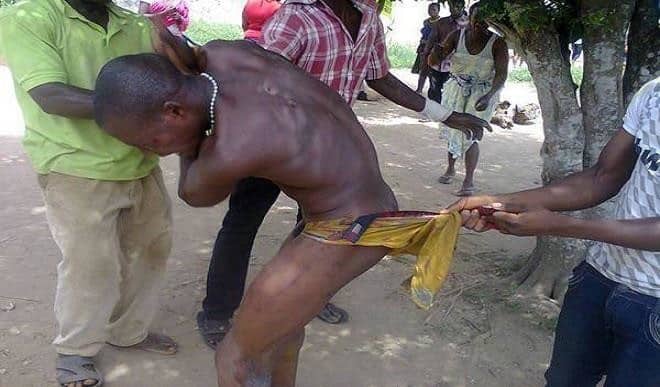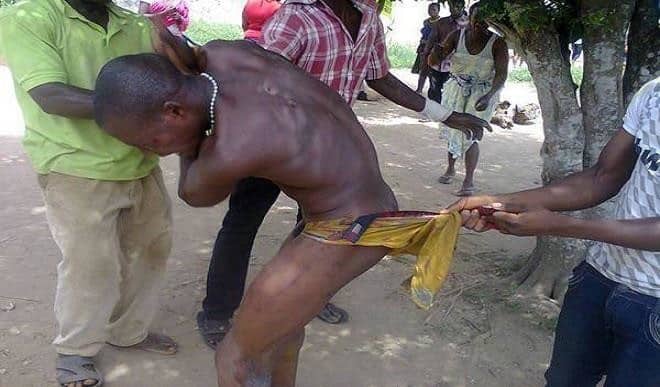 A 32-year-old man identified only as Afolayan, was beaten to a state of unconsciousness and  stripped naked on Saturday night for allegedly raping a 13-year-old girl at Iddo-Babota village, along Airport road, Abuja.
A witness, Ishaku Musa, said the incident happened around 7:34 p.m. when the accused allegedly lured the victim with a token and took her to his room where he allegedly defiled her.
He said the accused, who is a taxi driver took advannewse of the girl when her mother sent her on an errand.
He added that it was when the mother waited for her daughter to return but did not see her and decided to look around that a neighbour told her that  her child was seen entering the accused's room.
He said the mother rushed home to inform one of her sons who immediately went to the accused's room where he caught him in the act with the girl and raised an alarm.
He said the accused, whose pieces of furniture were destroyed, was beaten to a state of coma.
Musa said the girl's father who travelled for the Christmas was called on phone by the son, and he directed that the girl be taken to a clinic for test to confirm if the accused defiled her.
"In fact, the man was beaten to a state of coma, even as he denied that he only made an attempt when the girl's brother came and forced the door open," he said.
He said the accused was later taken away by some policemen from Iddo police outpost, who came with their patrol vehicle about 40 minutes later.
A police officer with the Iddo police outpost who preferred anonymity confirmed the incident, saying the suspect had been detained and investigation was still on after which he would be charged to court.
---
---
© 2023 Naija News, a division of Polance Media Inc.