Ronaldo and Messi cannot be separated, they've both scored 270 goals since 2009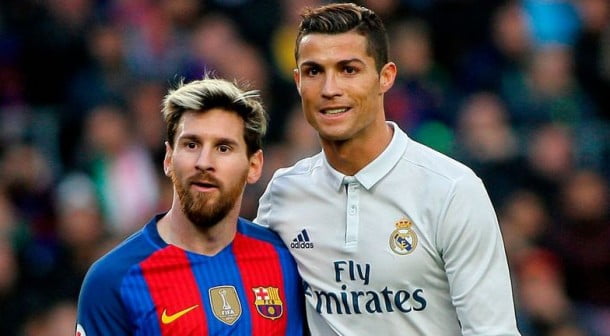 This is not an argument but a collation of stats since Cristiano Ronaldo joined Lionel Messi in La Liga from Manchester United in 2009.
Ronaldo just won his fourth Ballon d'Or, which is just one less than Messi's five with the race for the next award already on between both players and stats compiled by Daily Mail show that both players have scored 270 league goals since 2009 – amazing!
"Ronaldo has scored his 270 league goals in 247 matches, while Messi has needed 252, but there is really very little to split them.
"The Portuguese has played a total of 21,206 minutes in La Liga, while Barcelona and Argentina star Messi has completed 21,218, so their identical scoring tallies have come from almost identical time on the field.
"And while the stats show that Ronaldo averages a goal in league competition every 78.54 minutes, Messi isn't too far behind on 78.59 minutes.
The report, however revealed that Messi does more with his shots and the ability to help his teammates score than the Portuguese maverick.
"But where Ronaldo trails behind Messi is on chance conversion – the Real Madrid man wastes many more shots than Messi does, with a shot conversion rate of 20.03 per cent compared to the Argentine's 28.33 per cent.
"And Messi also bosses it when it comes to laying on assists for team-mates, recording 104 in La Liga since 2009 as opposed to Ronaldo's 78.
"When their scoring records in all competitions since 2009 are compared, we see that Messi has scored 396 goals in 390 appearances, while Ronaldo has found the net 380 times in 367 outings."
So who is the greatest player in the world?