I am sorry for criticizing Buhari – Soyinka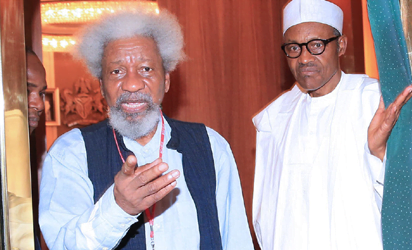 Nobel Laureate, Professor Wole Soyinka has tendered unreserved apology to President Muhammadu Buhari, for criticizing his congratulatory message to Gambian President-elect, Adama Barrow.
Buhari had congratulated Barrow, for his victory over incumbent Gambian President, Yahya Jammeh, at the poll.
The Nobel Laureate thought Jammeh had won and went ahead to criticize Buhari for his message.
He had said at the time: "President Buhari is congratulating the president-elect of Gambia, that lunatic who makes his citizens undergo hallucinogenic tests to prove that they are not witches on his farm.
"Please help me beg President Buhari, I don't say he shouldn't congratulate Trump because there is no way one can avoid Trump but you can avoid petty little dictators like Jammeh of Gambia who is the opposite of everything one would expect of the true African leader for his or he citizens. Please President Buhari, restrict yourself to those you absolutely have to congratulate."
Soyinka has now realized his mistakes and promptly tendered an apology.
 "Just before setting off for my media chat at Freedom Park, I was handed a Sunday newspaper with a comment on the recently concluded Gambian Presidential elections. I totally misheard the comment and thought that ex-President Jammeh had again succeeded in manipulating the votes to remain on the continent's 'sit-tight' roll of dishonour," he said.
"It turned out that I had obtained the wrong picture. The torturer and notorious administrator of hallucinogenic broths to citizens had been dethroned. I therefore take back my criticism of Nigeria's message of congratulations.
"Let the entire West African sub-region and indeed the entire continent rejoice in the overthrow of the monatrocity who had sworn to rule for a billion years, a throw-back autocrat with delusions of eternal power who casually tossed opposition in dungeons and threw the keys away. It is now time to make Yahweh answer for his twenty-two years of boastful misrule and crimes against humanity.
"Once again, my apologies for the miscommunication. I rejoice with the long-suffering citizens of Gambia, encourage the rehabilitation of that land strip, and recovery of its existence in full liberty, freed of fear, and restored to dignity as part of the sentient species."
Does this mean that Soyinka does not think before he speaks or speaks before getting his facts right?
---
---
© 2023 Naija News, a division of Polance Media Inc.