16 governors to form new mega party ahead of 2019 elections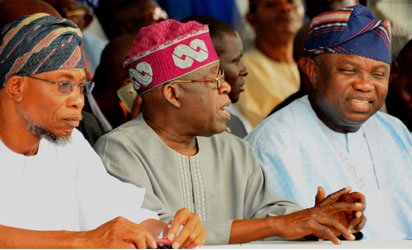 A report by Thisday indicates that 16 incumbent governors may join the proposed new mega party expected to challenge the ruling All Progressives Congress (APC) in the 2019 general election.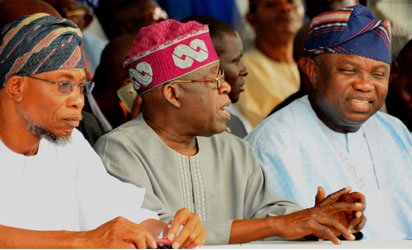 According to the report, the promoters of the new party immediate plans is to win the 2018 governorship polls in Ekiti and Osun states.
The proposed opposition party is believed to have the tacit support of the Senator Ahmed Makarfi-led faction of the Peoples Democratic Party (PDP), a national leader of the APC, Chief Bola Ahmed Tinbubu, and former Vice-President Atiku Abubakar, a major chieftain of the APC.
Both Tinubu and Atiku have, however, denied their involvement in the proposed party, saying they remained committed to the APC.
The states considered to be the strongholds of the proposed mega party are Abia, Ebonyi and Enugu in the South-east; Rivers, Akwa Ibom, Delta, Cross River and Bayelsa in the South-south; Osun, Oyo, Ekiti and Lagos in the South-west; Gombe, Taraba, Adamawa in the North East; and for now Benue State in the North-central zone.
Meanwhile, the Makarfi-led PDP has expressed disappointment in the way Atiku and Tinubu denied their involvement in the formation of the new party.
The PDP leaders are said to be of the opinion that the duo  should have known what they were up against from the outset.
According to a PDP stalwart: "We would have expected Atiku and Tinubu to have been more strategic in their reactions to the news.
"They just proved that they could develop cold feet at the slightest whiff and are not really prepared to take on the challenges that lie ahead. Their denials could be a setback for the mega party, as there is no way the formation can progress with this kind of attitude.
"We know it is going to be tough, but we must be ready to live with the consequences."
Media reports on Sunday, December 4, suggests that the mega party would make its debut by the end of March 2017, just about two years before the next general election in 2019.
In a related development, Dr. Junaid Mohammed, a second republic lawmaker and a foremost commentator on northern Nigerian affairs, has described President Muhammadu Buhari as a 'monumental failure' as president.
Mohammed warned that crisis may erupt which could hasten the break-up of the country if Buhari decides to run for re-election in 2019.