Good News: Nigerians can now buy a bag of rice for N8,000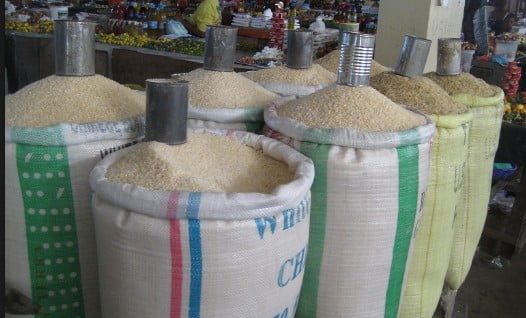 The Central Bank of Nigeria (CBN) says Nigerians can now buy a bag of local rice for as low as N8,000 — as against N22,000 obtainable with foreign rice.
The CBN said it's Anchor Borrowers Programme  for the promotion of agriculture had set the country to begin exportation of rice by 2017.
NAN reports that the Anchor Borrowers Programme of the CBN and the Presidential Committee on Rice Production, launched in July, had jointly set the target.
Isaac Okorafor, acting director of corporate communications of the apex bank, said this in Yenagoa at a sensitisation workshop for farmers.
According to Okorafor, farmers in Kebbi, Jigawa, Ebonyi, Sokoto and Cross River states, among others, have already keyed into the programme, resulting in massive rice cultivation.
He said the country would achieve self-sustenance in rice production if the momentum was sustained, adding that the country should commence exportation of locally produced rice by 2017.
Okorafor said Kebbi state had already harvested one million tons of rice, adding that Ebonyi's harvest had outstripped the earmarked production for the year.
"The development is encouraging and by the end of 2017, we will not only meet our national demand which is between six and seven million tons but have surplus to export," he said.
"We must rid ourselves of eating foreign rice that has been stored for over nine years in Thailand, Vietnam and India. Nigerian rice is fresh and healthier.
"We should eat Nigerian rice provided for by the CBN Anchor Programme;  50 Kg of local rice is now N8, 000 in Ebonyi. Already, the Abia Government has ordered rice from Ebonyi for Christmas."
Okorafor added that what had been done with this programme so far was to create jobs through farming, especially for the unemployed youths.
"Nigerian youths must wake up, dust themselves up and join this worthy campaign. Remember that the status of our farmers is now better due to the support they are receiving as a result of government's policy.
"Our currency is weak because we engaged in needless importation of all kinds of foodstuff, including tooth picks; the government is determined to stop this.''
Oke Nwajah, branch controller, CBN Yenagoa, said the state was blessed with rich wet soil that supported rice cultivation.
He therefore urged the farmers to take pride in farming, adding that the Anchor Borrowers Programme was an intervention to reduce their burden.