El-Rufai, Shehu Sani Fight Gets More Dirty As They Accuse Each Other Of Bribery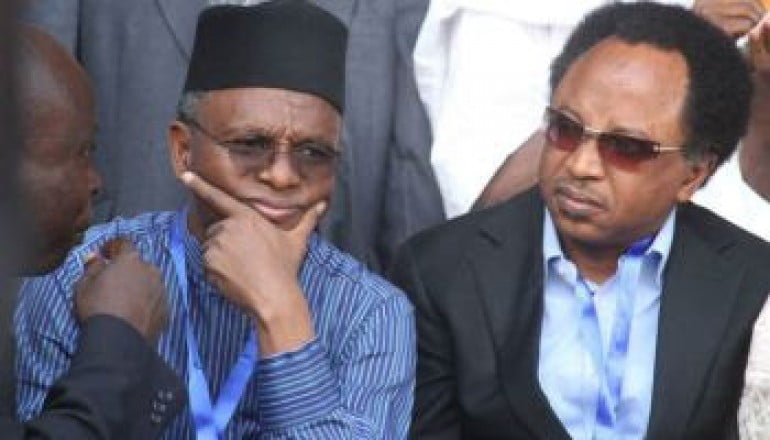 Some officials of the All Progressives Congress, APC, have accused an aide to Governor Nasir El-Rufai of offering a N3 million bribe for them to suspend  senator Shehu Sani.
The APC executives of Ward 6, Kaduna South Local Government Area, said this on Sunday at a press conference.
They accused Uba Sani, Mr. El-Rufai's political adviser, of offering the bribe to some of their fellow executive members to suspend Shehu Sani who represents Kaduna Central in the Senate.
Messrs. Sani and El-Rufai are both leaders of APC in Kaduna but are political adversaries.
Abbas Anni, the chairman of APC, Ward 6, spoke on behalf of his colleagues. He called on the anti-graft agency, EFCC, to investigate the bribery allegation.
The party official also linked the new allegation to a previous one in December last year when some of his fellow executives were accused of receiving N500,000 bribe to suspend Mr. Sani from the party.
Mr. Anni has since said that suspension was void.
"It is very unfortunate that this ugly move is propping up again after the disgraceful episode of a N500,000 bribe that was purportedly given by the same set of people to instigate the alleged suspension of Senator Shehu Sani about a year ago," he said on Wednesday.
Mr. Anni called on the APC National Chairman, John Odigie-Oyegun, and other leaders to intervene in the Kaduna crisis. He said they should act fast
"before the Kaduna State Governor and his cronies destroy APC in Kaduna State."
In reaction, another official of the APC in the ward, Auwal Abdulhameed.
Mr. Abdulhameed, who said he is the ward secretary, said Mr. Anni got a car from the senator while "the other eight (executive members opposed to Mr. Sani's suspension) got motorcycles."
"We have petitioned to the Commissioner of Police and we shall sue for defamation of character over these accusations that we received N3 million from SA on Political to Governor El-Rufai," he added.
Mr. El-Rufai's political adviser, Mr. Sani, declined comment when contacted to speak on the allegations.