Eyitayo Jegede Intensifies Campaign Call For Election Postponement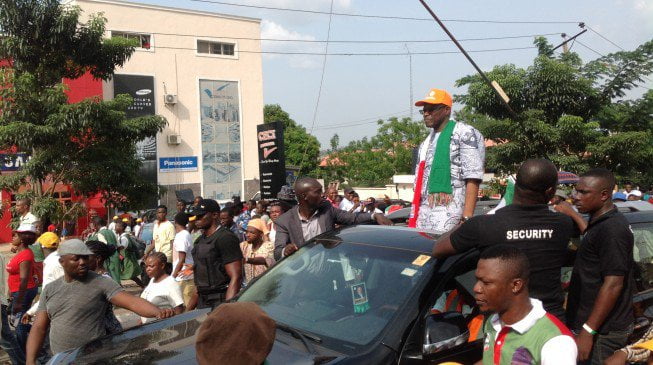 Eyitayo Jegede, candidate of the Peoples Democratic Party (PDP) in Saturday's governorship election in Ondo state, has been celebrating the dying minute restoration of his candidacy.
Both the appeal court and supreme court annulled the ruling, which ordered his replacement with Jimoh Ibrahim.
Although Jegede has been appealing to the Independent National Electoral Commission (INEC) to postpone Saturday's election, his campaign train has been to different parts of the state.
TheCable bumped into him at Ojo Oba road, Alagbaka in Akure, the state capital, on Thursday.
Jegede waved to the crowd, as his teeming supporters rejoiced by singing and dancing.
The PDP candidate is rushing to beat the deadline for the campaign.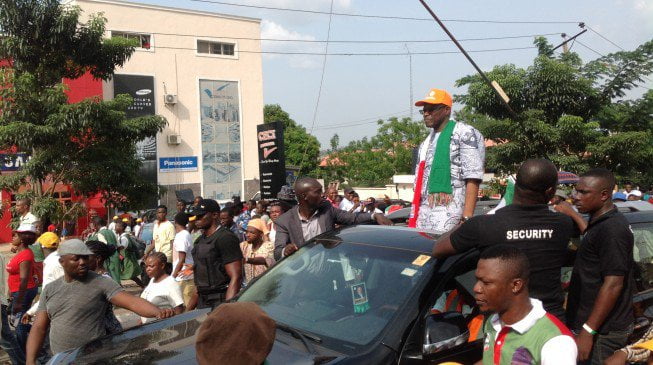 His campaign jingles and promos have rented radio and television airwaves since the judgment of the appeal court.
A NAN correspondent, who went round Okitipupa on Thursday, observed that his campaign train was in the town and its environs.
Jegede's campaign team sang his praises and distributed fliers on his election bid.
The supporters, who described the judiciary as the last hope of the common man, said that INEC should give Jegede adequate time for campaign to make the judgment more beneficial.
Ayodele Fasakin, the Jegede faction campaign director in Okitipupa, told NAN that the team had a short time to campaign.
"INEC should postpone this election; we don't have enough time for campaign because the election is two days away," he said.
"I am optimistic that Jegede will win the election; it is glaring."
Ayinde Ikudaisi, another supporter of the candidate, said he was satisfied with the judgment, and urged INEC to give Jegede more time to "sell" his message to the electorate.
"The judgment is victory for us. The court has proven to be the last hope of a common man," Ikudaisi said.