T.B Joshua Predicts Jimoh Ibrahim Will Be Ondo Governor?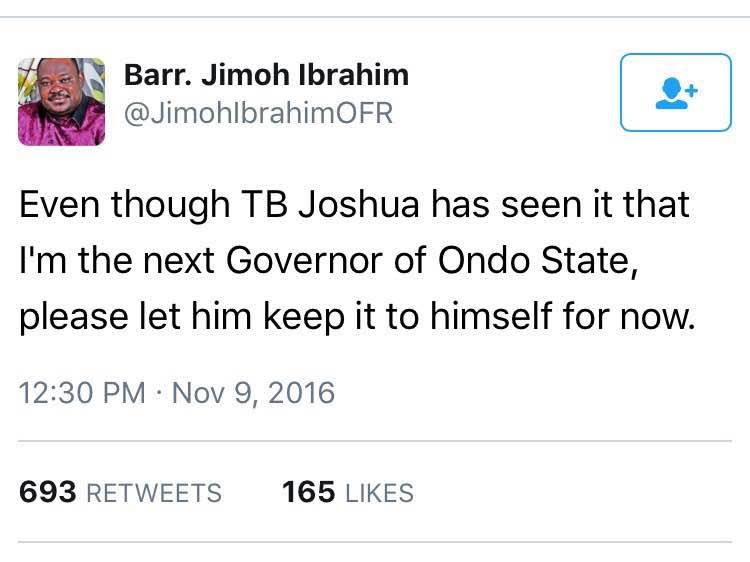 The flag bearer of the Peoples Democratic Party, in the forth coming ondo state gubernatorial election PDP, Jimoh Ibrahim, has again boasted that he will win the November 26 election.
Ibrahim, who recently threatened to sue incumbent governor, Olusegun Mimiko, if he wins, has been speaking on his chances via social media platform, Twitter.
Ibrahim, also made reference to the Founder of Synagogue Church of All Nations, SCOAN, Prophet TB Joshua, saying he should keep quiet over his victory at the coming poll.
 Ibrahim tweeted: "Even though TB Joshua has seen it that I'm the next governor of Ondo State, please let him keep it to himself for now".
TB Joshua, has come under
verbal attacks from Nigerians
for predicting that "a woman" will win the US election.
His words: "By the way, in order not to keep you in suspense, what I frankly saw is a woman."
As it turned out, Republican candidate, Donald Trump, emerged winner after defeating her closest opponent, Hillary Clinton of the Democrats.
TB Joshua, in reaction to the backlash, deleted the video from Facebook.
The video has, however, been re-posted.