82 years old mother of ex-FIRS boss, Ifueko Okauru, killed by armed robbers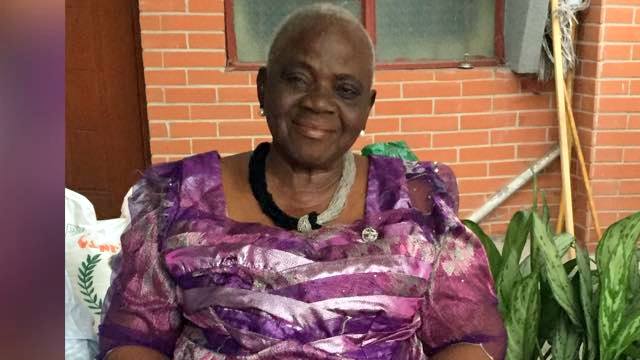 Grace Onaiwu Omogui, the mother of a former Chairman of the Federal Inland Revenue Service, Ifueko Okauru, has died, her family announced Saturday. She was 82.
Mrs. Omogui, teacher, lawyer and judge, passed on at a Lagos hospital Saturday following complications from multiple gunshot injuries from an armed robbery attack in Benin City, the Edo State capital, on her way from the Sapele Road branch of the Guaranty Trust Bank (GTB).
According to a statement by her eldest son, Nowamagbe, Mrs Omoigui was born on December 28, 1933 and her life spanned several professional careers, starting as an educationist and former Vice Principal of Federal Government Girls College (FGGC), Benin City, and later becoming a lawyer, retiring as a magistrate in the Lagos State Judiciary.
"Mama G, as she loved to be called, fought a gallant fight to live but the Lord decided that her time on this earth was done," the statement said.
"She leaves behind a legacy of love to one's neighbour regardless of cost and personal sacrifice. Even in the face of unprovoked attack, she did what she does best: rightly questioned the indefensible actions of the armed robbers as she felt it was wrong.
"Mum lived a transparent life through and through. She was the pillar behind the family and would do anything to preserve its good name and defend integrity.
"She positively touched many lives at home and at work and we believe her legacy of sacrifice, loyalty, hard work, fairness, love, integrity, the importance of family and God's love will live on through everybody she touched.
"She is survived by her husband of 58 years, Surveyor Daniel Aiyanyo Omoigui, her children – Dr Nowamagbe and Moira Omoigui; Dr Sota and Helen Omoigui; Ifueko M Omoigui and Asishana Okauru; Eghosa and Eunice Omoigui; and Nosakhare Omoigui; and grand children, Ikponmwosa Omoigui, Ighiwiyisi Omoigui, Ayrton Omoigui, Iyegbekosa Omoigui, Izevbokun Omoigui, Grace Omoigui, Isiuwa Omoigui, Iyare Omoigui, Noe Ter Avest Omoigui, Iriagbonse Omoigui, Anni-Arie Omoigui, and Nete Okauru.
"We are heartbroken by this untimely loss but comforted by the understanding that this is the Lord's way and our mum is resting peacefully in His bosom."
Below is a profile of Mrs. Omogui as sent to PREMIUM TIMES by her family.
Grace Onaiwu Omoigui (nee Elekhuoba Iyeye OGBEWE-ASEMOTA) was born at Akure, Ondo State on December 28 1933. Grace Onaiwu lost her mother Izevbokun at the early age of three years. Her early and adolescent development was therefore in the caring hands of her late good father (to whom she was much endeared to), her step mothers and her grandmother – Iyeye with whom she spent a greater part of her childhood. She grew up active, dynamic, aggressive and highly motivated for success.
Married on August 2, 1958 to Mr. Daniel Aiyanyo Omoigui, the retired Surveyor General of the Federation, Mrs. Omoigui has successfully combined an active working life with building a successful home. Their marriage is blessed with five children – four boys and one girl, who individually have succeeded in life in their various fields of endeavour. a testimony to the strict and focused upbringing they received from their parents.
Grace Onaiwu Omoigui started her working life as a Grade II teacher – a product of St. Agnes College Maryland, Ikeja in December 1955.
Over time, she developed herself and acquired additional qualifications which include: NCE in Chemistry/Biology (1967), BSc Education/Zoology (1974); LLB Hons (1985); BL Nigerian Law School (1986).
In her first career as a teacher, Grace Onaiwu Omoigui taught in various primary, secondary modern schools in the old Western Region – Benin, Okene, Ogbomosho and Ilorin. In Lagos, she taught in the Old Government School, Okesuna; Eko Boys High School, Mushin; Holy Child College, Obalende and the Federal School of Arts and Science in Victoria Island (where her students fondly referred to her as 'Mummy').
She was posted to the Federal Government College Benin as Vice Principal in 1990 where she retired after thirty-five (35) years of Public Service on July 31 1992.
In her second career as a lawyer, since her retirement from Public Service, Grace Onaiwu Omoigui practiced under experienced Senior Advocates of Nigeria – Messrs A.O. Eghobamien of Benin City, Edo State and Prof A.B. Kasunmu of Lagos, Lagos State. She served as a Magistrate and Chairman of the Rent Edict Tribunal in the Lagos State Government Judiciary from where she retired a second time around as a result of attaining the statutory retiring age of sixty-five (65) years.
She is currently a Director in the firm of ReStraL Ltd, and spends her time mostly providing service to her husband, children, extended family and friends in any capacity that is of benefit.
Chronology of Work Experience
1956-1987
Various teaching appointments:
1956
Started teaching service in the Convent School, Benin City in January 1956. Taught all subjects in the standard six class.
1957
Appointed Head of the Secondary Modern School in Benin-City
1958 – 1960
Resigned to join husband in the U.K.
1960 – 1961
Taught in various Primary Secondary Schools in Ilorin, Okene, Ogbomosho to mention a few. Location dependent on husband's duties.
1962 – 1971
Taught at the following Schools/Colleges at various times:
– Lagos City Council School (formerly Government School), Okesuna
– Eko Boys High School, Mushin
– Holy Child College, Obalende, Lagos
1971 – 1974
Enrolled at the University of Lagos and obtained a Bachelor of Science degree in Education/Zoology
1975
Joined the Federal Public Civil Service, Federal Ministry of Education in 1975, served in Lagos State under the Universal Primary Education Scheme (Teacher Education Sector).
1976 – 1987
Taught Biology in the Federal School of Arts and Science at Class-teacher and later as Head of Department, Bi-lateral Agreements, Common Wealth and African Affairs
1987 – 1990
Officer in charge of Bi-lateral agreement between Nigerian and Common Wealth and other African countries.
Helped draft a number of bilateral agreements.
Represented the Federal Ministry of Education on the Nigerian delegation to India in 1988.
1990 – 1992
Vice Principal, Federal Government Girls College, Benin-City. Contributed to the upliftment of the School. Retired voluntarily from the Federal Civil Service after almost 35 years service on July 31, 1992.
1992 – 1994
Worked with Messrs A.O. Eghobamien of Benin City, Edo State and Prof A.B. Kasunmu of Lagos, Lagos State
1995- 1997
Magistrate and Chairman of the Rent Edict Tribunal in the Lagos State Government Judiciary from where she retired a second time around as a result of the statutory retiring age of sixty-five (65) years.
---
---
© 2023 Naija News, a division of Polance Media Inc.