New party loading as Tinubu, Ambode, Aregbesola boycott APC mega rally in Ondo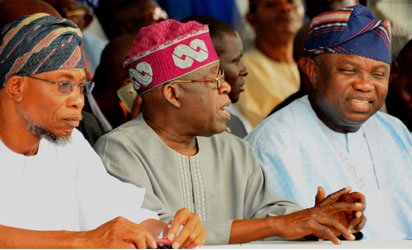 Reports that national leader of the All Progessives Congress (APC), Asiwaju Ahmed Tinubu is planning to float a new political party may be true afterall as he shunned the party's campaign rally in Ondo state.
According to The Punch, Tinubu as well as Governor Akinwunmi Ambode, Rauf Aregbesola and Abiola Ajimobi of Lagos, Osun and Oyo states respectively, were not at the rally in Akure, the Ondo state capital.
President Muhammadu Buhari and some other governors on the platform of the APC were present at the mega rally as APC seeks to wrestle the state from the Peoples Democratic Party (PDP) which has Jimoh Ibrahim as the leading candidate.
Although the real reason for the governors' absence could not be ascertained as at press time, there are rumours that they may have refused to attend based on their loyalty to the national leader, on whose back they rode to take power in their respective states.
Rochas Okorocha, the chairman of the APC governors' forum, however, informed those present at the gathering that, regardless of the absence of the other governors, they were all standing behind Rotimi Akeredolu, the party's flagbearer in the November 26 election in Ondo.
"Ondo State must join the progressives states in Nigeria, therefore we must vote for him and he will win the election. Akeredolu rejected federal appointments because he loves you people. He wants to serve you, so vote for him," he was quoted to have said.