$29.9bn: Buhari And I Did Not Discuss The Borrowing of Loan – Saraki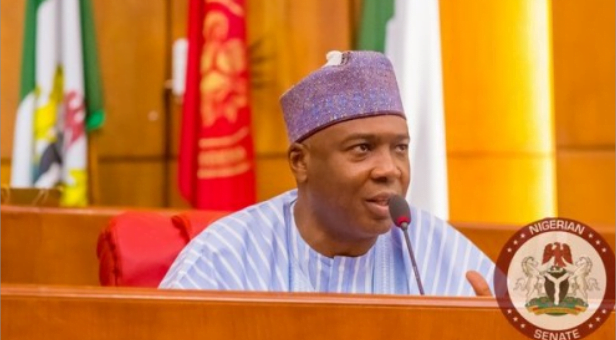 Senate President, Dr. Abubakar Bukola Saraki, has advised politicians and the media against peddling empty speculations about his recent visits to the Presidential Villa and linking such visits to the request by the Buhari administration for approval of the National Assembly to get $29.9bn loan from foreign sources.
Saraki who spoke through his by his Special Adviser (Media and Publicity), Yusuph Olaniyonu, disclosed that in all his recent meetings with President Muhammadu Buhari and Vice President Yemi Osinbajo, the issue of the proposed loan has never come up for discussion.
He noted that the comments by some politicians on the loan issue without any factual basis was "unfortunate". " Like I once told the media, these politically-motivated commentaries are trivialising a serious national issue and presenting it as if it is a personal matter that can be decided at meetings between Saraki and President Muhammadu Buhari", he stated.
"The National Assembly which I head as Senate President has taken a position on the issue as required of it by the laws of the land and legislative conventions.
"At every point, the present National Assembly will make decisions based on national interest and we have vowed that we will always act in the interest of our people. That is why despite the fact that members belong to different parties, when national issues come to the floor we forget about party affiliations and act as Nigerians elected to protect the interest of Nigeria.
"A visit to the Presidency by the Senate President is a normal thing because we need to consult, discuss, exchange ideas and make suggestions to each other from time to time. More importantly, at this time, when the nation is facing economic crisis, there is need for frequent engagements by the Presidency and the National Assembly.
"It is in fact very unfortunate that these empty speculations by the media are now forming the basis for commentaries by some politicians who are in a position to be better informed. Politicians should stop playing to the gallery or drawing political capital from all issues. When serious national issues are on ground, we should refrain from making statements based on mere sentiments. Similarly, the media should exercise restraint in their reportage and commentaries in order to properly serve our people.
"At a time when we are about to prepare a budget which is aimed at responding to the current recession and our plan is to ensure all issues concerning the budget are ironed out before the budget comes to the floor so that we will have a less tedious process than that of last year, the media should be ready to witness more of these engagements between the Presidency and the National Assembly," Saraki stated.
---
---
© 2023 Naija News, a division of Polance Media Inc.