2023: Tinubu Supporters Organise 'Asiwaju Walk' Rally In Ibadan [Photos]
Members of the All Progressives Congress (APC), on Wednesday, organised a massive rally tagged 'Asiwaju Walk' in Ibadan, Oyo State capital.
Naija News reports that Dapo Lam-Adesina, son of the former Governor of the state, Lam Adesina, organised the rally to show support for the APC presidential candidate, Bola Tinubu.
In a tweet via his verified Twitter page on Thursday, the lawmaker representing Egbeda/Ona-Ara Federal Constituency, Akin Alabi, shared photos of the rally.
He tweeted, "Hon Dapo Lam was like, let's do something small before official campaigns begin so we decided to do it low key."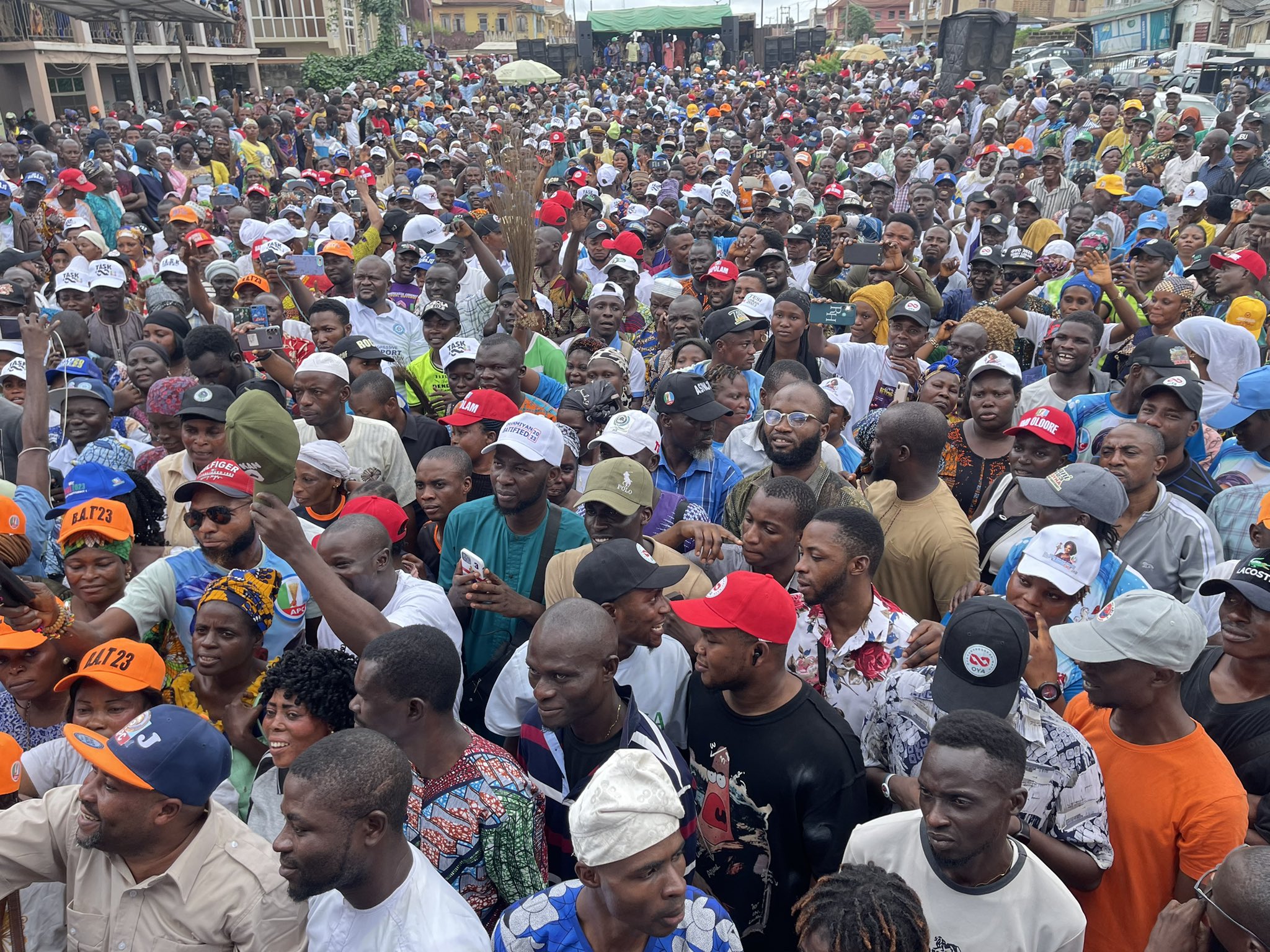 Also, the spokesperson for APC 2023 Presidential Campaign Council and Minister of State, Labour and Employment, Festus Keyamo, posted a 20 seconds video of the Asiwaju rally via his Twitter page.
He tweeted, "Jungle don dey mature for Oyo o!! 🤣🤣🤣🤣"
Meanwhile, mixed reactions have greeted the "Asiwaju Walk" as many Nigerians have taken to the micro-blogging platform, Twitter to react to the development.
While some APC supporters applauded the large turnout on a weekday, others claimed that the participants were paid to attend the rally.
See some of the reactions below.
@Kene46867301 tweeted, "LoL, this is a paid crowd. You cannot in your life get the organic love Mr Peter Obi and the labour party is getting. For everyone that is there is paid to be there. So stop making noise."
@mcalesh wrote, "Crowd like this is arranged but if the crowd is Obidients, it is organized love even on Mondays. Unna de funny."
@honilatte_ tweeted, "Mostly poor people hoping to get urgent 2k because APC destroyed the economy and their source of livelihood."
@Chukwun_nso wrote, "Seeing young Nigerians campaigning for a sick man will never stop being funny to me… Like on a more serious note! What's the motivation? I'm just curious."
@vandamie wrote, "Nice one, However, are all these people not working? How can they be this free to attend a rally on a Thursday morning? Was it done last weekend? I'm just curious."
@Okeyomi_ tweeted, "Mark my tweet Tinubu is winning the Presidency, Folarin will be the next governor of Oyo state, @akinalabi will return to the house and Jide falade will be the next House of Assembly member for Egbeda LGA. Ire ooooo."
@ogbeniOBA wrote, "If youths can come out like this on a weekday it shows that government has failed, only unemployed youths will be out in this large number on a weekday when they're supposed to be making money for themselves, the government failed them so they can always use them for things like this."