2019: Ezekwesili Describes Buhari And Atiku As 'Siamese Twins Of Failure'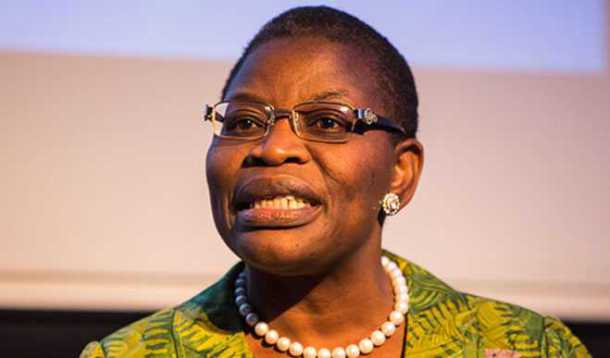 Oby Ezekwesili Reveals Why She Will Defeat Buhari-Atiku In 2019 Elections
Former Minister of Education and presidential candidate of Allied Congress Party of Nigeria (ACPN), Dr. Oby Ezekwesili, has  expressed confidence about her presidential ambition for 2019.
Ezekwesili, who was speaking at a press conference in Lagos expressed confidence that she would use her campaign strategies to defeat President Muhammadu Buhari of the All Progressive Congress, APC and former Vice President Atiku Abubakar of the Peoples Democratic Party, PDP.
She also said both Buhari and Atiku were one candidate and not two because "Buhari's All Progressive Congress (APC) and Atiku's Peoples Democratic Party (PDP) are Siamese twins of failure and destruction."
She said: "There is no lesser evil in 'BuTiku; BuTiku' are members of the same party. Attempting to choose between these two is like asking one to choose between death by poison or death by gunshot. God forbid. We cannot reject one oppressor and hand over to another oppressor. We do not love bondage. We do not enjoy suffering; God in heaven forbid."
She added: "I just laugh when I hear some people say our citizens' movement will split opposition votes. But the PDP is not in opposition to the APC. The candidate of the PDP has over the past 14 years gone from PDP to AC, AC to PDP, PDP to APC and now back to PDP. These people are brothers and sisters of iniquity and impoverishment, merchants of failure and disappointment.
"Don't believe that 419! They are both part of a political ruling class that has held us bound, manipulated and diminished us for decades. Now they are auditioning to extend their streak of failure for another four years? God really forbid!
"The real opponent that the Nigerian people have in 2019 is this old political order that takes and takes and takes, and never replenishes anything," Ezekwesili said.
The former minister, who spoke extensively about her record, how she had been hesitant to participate in politics and her eventual decision to join the fray, insisted that she was the most prepared and most ready for the office of the President.